VENICE, CA – In January Mick Blue and his wife Anikka Albrite became the first-ever married couple to win AVN's Male and Female Performer of the Year trophies. Among other things, this scored them a beautiful feature in the March issue of AVN and the article has now gone online, too.
"At the '14 Awards, the couple was bestowed the joint prize for Best Anal Sex Scene, for Albrite's very first such scene in her Hard X showcase Anikka. Then in March, the real-life lovebirds made their adoration of each other official by marrying on a painting-like day atop a cliff overlooking the Pacific Ocean," AVN Senior Editor of DVD News Peter Warren writes. "Fast-forward to this January, and to cap it all off, the still newlyweds were crowned back-to-back in a once-in-a-lifetime unfolding of serendipity as AVN's new Male and Female Performers of the Year.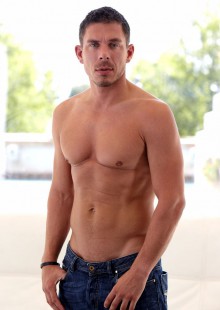 "It literally was a dream come true," Mick told AVN, "because I wished it so much for myself that my wife Anikka was going to win it, and then when she won it and I realized that we both won it together at the same time, it was just like, 'Oh my fucking God.' It's hard to describe. After that, sorry to say it, but the rest of the AVN Awards Show was just a blur. It's like time stays still."
Time soon started moving again for both Mick and his wife and this week a new movie that Mick directed is available in stores with 3rd Degree releasing Brown Nosers.
"Brown Nosers is one of the newest movies I have directed. It's all about ass licking and hot sex," Mick said. "We guys worship the girls, licking their asses first and then the girls return the favor. The highlight of the movie is Riley Reid, who licked a guy's butt the first time on screen. I was really lucky to share this moment with her. She is just an outstanding performer. AJ Applegate and Karmen Karma showed great butt-licking talents as well as Paisley Parker."
Mick also stars in Pretty Dangerous, the new Stormy Daniels-directed movie from Wicked in which he plays a security guard.
"The best part of the movie is when I get to have hot, intense anal sex with my amazing loving wife Anikka," Mick says. "She looked so hot as a burglar dressed in a catsuit!"
Read the AVN article "Meet the New King and Queen of XXX" at http://business.avn.com/articles/video/Interview-Meet-The-New-King-and-Queen-of-XXX-590280.html.
Mick is nominated for Hypest Dick in the 2015 Popporn Awards. To vote go to http://www.popporn.com/popporn-awards/a-4.
To book Mick contact him directly at mickbluebookings@gmail.com. Follow him on Twitter (@mickbluexxx) and check him out on Instagram (@mickbluexxx). For everything Mick go to www.risingstarpr.com.