Last month, we were forwarded some emails between porn gossip blogger Mike South and his inner circle of pseudonymous contributors. One email from South, with the subject line "Links to other sites", included the following:
Just wanted to clarify the link policy

Feel free to link to any site you own thats a given

always source cut and pasted material that you base a story on

feel free to use links as references to data you use

The only thing I ask is that you refrain from linking to competitive sites, specificall [sic] rob black and TRPWL the reason is simple they try very hard to goad me into mentioning them because they want my traffic…theres nothing in it for me and everything in it for them so if you mention them use "a lesser site" or some other reference without actually linking them.
Every time I read this I think of the little leprechaun in the Lucky Charms commercial — I picture South sitting there saying, "They're after me traffic!" over and over.
I mean, why else would TRPWL, AdultFYI and AVN report South's hypocrisy? It must be a conspiracy!
To Mike South, it's all about the traffic.
I was introduced to Mike South back in May 2011. Me and South along with a few others were involved in an online battle with Donny Long and his hate site. When the smoke cleared, Whiteacre, South and I were the only ones standing.
I continued to talk to South up until a few months ago. We still talked even while he and Whiteacre were going back and forth publicly. I've always felt sorry for South: I see a bitter old man with nothing, a guy whose whole life revolves around his website. Because of this I've always overlooked his bullshit, his lies, the way he's treated people in my circle, even the way he's treated me.
It's funny that South talks about links; he never ever gave me a clickable link. He's mentioned me, but if you wanna check out TRPWL, you need to copy and paste.
Keep in mind, after May 2011 most of PWL intel came from me and my crew. Whenever I would chase South's leads, they all turned out to be bullshit.
One time, towards the end, when we found out Joe Blow a.k.a. Michael Tierney was the money behind PWL we brought South in. Whiteacre wrote up an email memo to the group containing our latest info. While Whiteacre and I were on the phone trying to figure out how we could best use the info to bring down PWL, South posted it:
Interestingly, that opening sentence which mentions me was only added after Whiteacre criticized South for taking all the credit for the downfall of PWL in a September 2012 Gawker article. Until that point South had posted the memo as if it were his own work. Even in this form, it doesn't make it clear that South had nothing to do with writing it.
So, South burns us, but he can't even give TRPWL a clickable link. That's Mike South…it's only about him. He knows I have a blog — a lesser blog LOL, and that's the way he wants it. He's scared. Why? Because like I said, that's all he's got.
If you take away his "top spot", he has nothing.
On New Years Eve 2011, Kayden Kross called me. She said, 'I want you and South to break a Digital Playground story. Y'all talk about how it will go up.' Of course South posted it while Kayden and I were still on the phone. I was like, whatever; at that time it wasn't about being first, or breaking stories, to me. TRPWL was just my play toy.
Flash forward to 2012: TRPWL did a fundraiser to fight Measure B. I emailed South and asked him to post my press release. My friend Mike South told me NO. Why? Well, it would have sent me traffic. Mind you, at this time I still had a link to South's site included in our blog roll on the TRPWL homepage.
Here's Mike Souths "friend", asking for a favor and he won't do it. So, maybe South is for Measure B… okay, he could say, 'I'm just posting this as a favor and don't support it,' whatever. In 2 years I never asked him for anything, then when I did, he wouldn't do it.
Last week, South posted Alexa ranking numbers — another case of Mike South sucking his own cock. He compared his ranking to that of TRPWL and AdultFYI, proclaiming his supremacy and leading his readers to think that's why we attacked him. And he claims in the email above that I want him to mention TRPWL — even though I told him a few months back to keep my site out of his mouth, and his response to me was "get thicker skin".
I think his Alexa obsession is funny; it's all about that fake number. If it weren't for that number, South wouldn't know if he was the "top dog".
What South fails to mention is the other numbers on Alexa. Let's examine this.
Mike South's site was started in 1998.

When someone sources a story, as happens when you BREAK news, 75% of the time they link back to the original source.
So in 16 years as the news breaker, the top dog, the go-to story breaker, Mike South has a total of 232 linkbacks. The guy who brags that he gets Christmas cards from the top 5 guys in porn averages 16 linkbacks a year.
By comparison, TRPWL has gotten 3 times that amount in only 3 years. On top of that, the top dog loses about 60% of his readers in less than 60 seconds (that's more than twice our bounce rate).
So, how does South have such a high Alexa rank? He chases high value targets. South posts his links in forums that are frequented by webmasters who use the Alexa toolbar.
If you have 500 people click your site and they're not using the Alexa tool bar, it wont rank as high as a website that gets only 50 clicks from users who have the tool bar. That's how it works.
In the porn biz, no website sees more Alexa users than GFY.com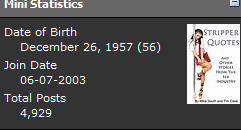 South has almost 5000 posts there. He's got hundreds of links all over that forum. That's one of the reasons he has the Alexa ranking he does.
Plus, South has some links from a few top sites: MSNBC, Gawker — all that stuff feeds his ranking. Don't get me wrong, South has made some good posts; he's broken some news. Is he the top dog? No, not even close.
His website over the last several years is based on lies. He's repeatedly posted lies, been corrected and refused to fix it.  Two weeks ago he was posting and tweeting about "being first" in reference to a news piece. I responded with, "you mean the thing we posted 3 hours ago", and he blocked me. LOL He lives in a fake world with an Alexa number.
The irony is, South's quest for traffic by just making shit up has led to his downfall. Had he not LIED about a woman he'd been hanging out with, he wouldn't be under such intense fire and I wouldn't be writing this right now. Mike South so desperately wants to be able to say he's number one in traffic that he's willing to flat out lie about someone just to get a post up.
Mike, I don't want your traffic. Anyone who still thinks you know what you're talking about isn't worth my bandwidth. You've fallen and you won't get back up from this.
We both know what you've done. If being the top dog means I have to lie, burn sources and blackmail the people I call friends then I want nothing to do with it. I'll take my lesser blog and toil in mediocrity until I walk away.
Oh and BTW…
As for the top guys in porn, it would seem we've been added to their Christmas card list.