Mile High Media and award-winning director Nica Noelle continue their lucrative partnership, launching new trans-erotica studio, TransSensual. Written and directed by Noelle, TransSensual will feature the director's renowned style of filmmaking –compelling and captivating erotica exploring social taboos, starring TS performers. "My Dad's TS Girlfriend" slated to hit stores April 1st will be the debut release.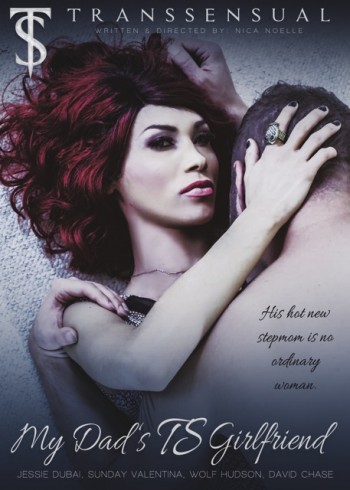 Nica Noelle explains TransSensual's overall imprint saying, "I don't approach TransSensual storylines any differently than I do straight ones, because TS women are women, period. TransSensual is trans-positive; in the sense that we don't do storylines where the straight guy is shocked to 'discover' the girl is TS. It perpetuates the idea that TS women are out to 'fool' straight men. It's simply not what our studio is about. You will see trans-women in authentic erotic encounters with a forbidden twist. There's a lot of conflict, tension and seduction. All of the themes that I love to work with."
Inspired by Mile High Media and Nica Noelle's success with recently launched gay romance studio Icon Male, and award-winning studios Sweet Sinner and Sweetheart Video, TransSensual exemplifies Noelle's distinctive style with an emphasis on ordinary people, confronted with sexual temptation and conflict, focusing on the emotions that fuel real, passionate sex.
Noelle's first release for the studio "My Dad's TS Girlfriend," stars Jessy Dubai, Wolf Hudson and Sunday Valentina. "My Dad's TS Girlfriend is really no different from the type of story lines I write for our Sweet Sinner Films," says Noelle. "A middle aged single Dad finds love again, with a scorching hot younger woman that his college age son falls in lust with. Jessy Dubai completely blew me away. I was so mesmerized by her performance, sexuality and beauty that I decided I wanted to devote a whole movie to her, which will be coming out in the near future."
"My Dad's TS Girlfriend was just a great experience, and a great way to kick off a new era in both my career and in TS feature porn. This studio is everything I dreamed of. I hope I can prove myself worthy of the trans community's trust and good will, and that we'll make some incredible movies together," adds Noelle.
Jon Blitt, vice president of Mile High Media, says, "Teaming with Nica for Icon Male was a huge success, and we are continuing that success with the launch of TransSensual. Nica's vision for trans-erotica is unique and we know fans will connect to it. She is a master at her craft, there is no one else offering her style of erotica in the transsexual marketplace."
For the latest news and BTS previews follow TransSensual on twitter: https://twitter.com/TranSensual
For production stills and content log on to Mile High Media's Press Access site: http://milehighonline.com/press/. Media seeking to be qualified may email Dusty@DustyInk.com.
About Mile High Media:
Mile High Media has been a pillar of the adult industry for over 25 years. The Canadian managed company began as a Canadian licensee for American adult movies, ensuring it distributed only the highest quality content. Understanding the diverse and ever changing needs of its consumer base, Mile High determined the best way to provide a wide array of superior entertainment was to produce its own. In 2003, Mile High launched Doghouse Digital, the first of its acclaimed lines catering to specific niches. Growing market trends and demand led Mile High to create Sweetheart Video (lesbian line), Sweet Sinner (couple line), Reality Junkies (reality gonzo line), Male Reality (gay reality gonzo line), Icon Male (Gay romance line) and recently launched TransSensual (TS erotica line). With over 2000 titles, Mile High's studios yield some of the most viewed adult movies in the world, available on all platforms, including broadcast, IPTV, VOD and mobile applications. Mile High is committed to evolve alongside consumers tastes, reflecting new developments in technology and entertainment. This philosophy led AEBN.net to name Mile High the 2012 Studio of the Year. For more information, visit www.MileHighOnline.com, www.Facebook.com/MileHighMedia or www.Twitter.com/MileHighMovies.