Update:
Megan Piper agreed to accompany Stone to the prom on the condition that he paid her airfare from LA to Oakdale, Illinois. Stone was in the process of raising some cash for her ticket. However, the school banned Piper from attending.
Via a statement, the school stated their position.
Patty Phillips, superintendent of the North St. Paul-Maplewood-Oakdale School District, said that Piper, 19, would be prohibited from attending the dance because her appearance would be 'inconsistent' with two district policies pertaining to visitors to school buildings and sites, according to Fox News.

The policy states that anyone can be denied entry to those events if the visit is 'not in the best interest' of the district.
Is this the end? Who knows? Stay tuned…
Previously:
This prom season, Minnesota student Mike Stone is on a mission to bring a special lady to his high school dance: a porn star
The situation might call to mind scenes from the 2004 movie "The Girl Next Door," in which three teens take porn stars to prom as part of a plan to film a modern sex-ed video. But it seems this Minnesota student just wants to stand out on his special day
In an interview with the Daily Dot, Stone said many of the girls he asked to prom were already going with someone else. So, he took a different route and hopped on Twitter to contact some adult film stars.
After nearly 600 Tweets, at least two porn stars have offered to take Stone up on his offer.
Megan Piper, who never made it to her senior prom, said she'd be willing to attend the dance as long as Stone took care of the travel costs from Los Angeles.
"If you can get me there, then yes :)," she tweeted.
And adult film star Emy Reyes was honored by Stone's proposal and responded by saying, "Awww that's reappear [sic] hun and i would love tooo."
Now, the teen's next mission is to raise about $400 to buy his possible date — who, as of late Tuesday afternoon, appears to be Megan Piper — a plane ticket to Minnesota for the big night on May 12.
Piper said she's exited about the possibility of attending the dance with Stone.
"I thought it was really cute, and I thought it would make his night by saying 'yes'," she told The Huffington Post.
The 19-year-old moved from Georgia to Kansas during her senior year of high school and couldn't attend her own prom. She even had a navy dress with a corset top picked out for the occasion.
"It was so cute," she recalled. However, if she does fly to Minnesota, Piper says she's using the opportunity to shop for a new gown.
When asked about the possibility of Emy Reyes attending the dance, Piper said she was open to sharing the spotlight with her friend.
"If she decided she wanted to go, too, that would be really cool," Piper said.
As of a couple of hours ago, Stone, who says he's 18, did not have a PayPal account set up to receive donations, but that might soon change with the amount of exposure he's been getting.
However, the teen's special date might very well be a surprise to his parents and principal, who reportedly have no clue what Stone has been planning, the Daily Dot reports.
As for Piper, the adult film star isn't keeping her boyfriend in the dark about her potential date.
"He knows I love him so he doesn't mind," she said.
Regardless of how Stone's plan pans out, he now joins the ranks of several teens who have taken extraordinary measures to secure a date to prom.
Much like Stone, 18-year-old Kevin McGuire used social media to secure a date with Taylor Swift. And although the songstress won't be able to attend McGuire's prom, she invited him to the Academy of Country Music Awards as her date.
Brady McHale, on the other hand, took advantage of his position as volunteer firefighter and executed his prom proposal atop a ladder truck positioned outside of his high school's windows.
Ashley Shay decided to take a more public route, pitching her prom proposal on a local billboard.
Visit BuzzFeed to read some of Stone's nearly 600 tweets.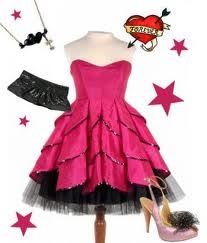 Source: Huffington post