In a review of 'Interracial Nation' (Wicked), Adult Dvd Talk reviewer 'Astro Knight' made what Moe considered a disparaging remark about his cum shot.
"AJ rolls to her side and strokes Moe's cock before letting him finish himself off and give her a slightly below average pop"
Which lead to this very kind offer from Moe: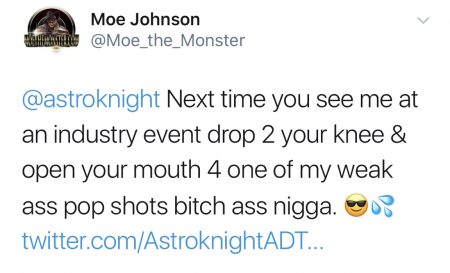 I guess my question is, how does one decide what a below average pop is?  Did Astroknight look at some of Moe's past cum shots, then use a mathematical equation to determine the worthiness of the pop Moe gave AJ?
AstroKnights cum shot research notes:
Cumshot 1: In EA's 'Best of the Buttocks', Moe's cumshot trickled down in a southeasterly movement at 2.4 MPH, when the cum hit her boob it picked up speed moving slightly to the left, it was raining that day so we adjust for the barometric pressure, the cum then turned left, picking up speed, hit the ground and the PA then slipped on it..   All in all, a great pop shot
Cumshot 2:  In My Big Black Stepbrother 2. Moe's cumshot was heavy,  like the oil I put in my scooter, it oozed all over the talents face, there must of been 4-6 ounces of spunk. Enough for someone to spread all over a freshly smoked brisket, if your into that type of thing.   All in all, a great pop shot
Cumshot 87: Today while watching free porn on PornHub, I came across an untitled Moe scene, Moe had came inside of a whitegirl, the white girl then forced the cum out of her twat, as it ran out of her lucky pussy, I couldn't help but notice it looked like the butter I put on my bagel each morning. While I didn't see the actual cumshot, I'd have to say it gets 2 thumbs up.. All in all, a great pop shot
Cumshot 487: Moe's cum flowed out of his dick slowly today, it was a total turnoff, almost like he had came previously on set which I know never happens,  I'm very disappointed in Moe's slightly below average pop and have no choice but to tell everyone.. I refuse to live in a world with below average pop shots.
No word yet on whether or not AstroKnight will take Moe up on his offer.