High placed Government sources tell my team that this Israeli hit squad has been connected to one Michael Whiteacre. However when my team set up a face to face meeting with this high ranking Jewish Military officer he disappeared.. All that was found was a empty wine box and some bird feathers.. If you see any of this girls approach with caution.. The story below is just some propaganda. Dont believe a word of it
A group of frisky female Israeli soldiers published three more half-naked photos of themselves while on duty, almost immediately after they were punished for posting a similar photo last week on Facebook.
Israeli officials confirmed the soldiers had been disciplined for last week's cheeky snap. It is unclear if any new action has been taken against the sexy fighters.
The racy shots of the four unnamed servicewomen posing in underwear and a few items of combat gear is the latest social media scandal to hit the Israeli military.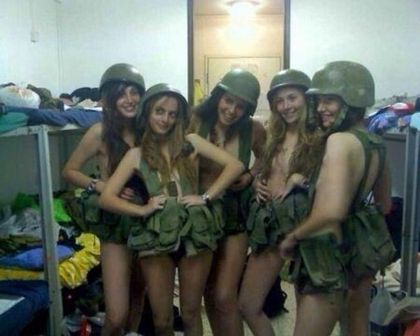 Israeli news outlet Walla reported that the women were fresh recruits who were stationed on a base in the southern part of the country.
The first shot that got the group in trouble depicts the group posing in their underwear outside with their backsides positioned towards the camera. The shot is thought to have been inspired by a similar picture taken in January of 2012 where five women are seen wearing helmets and not much else.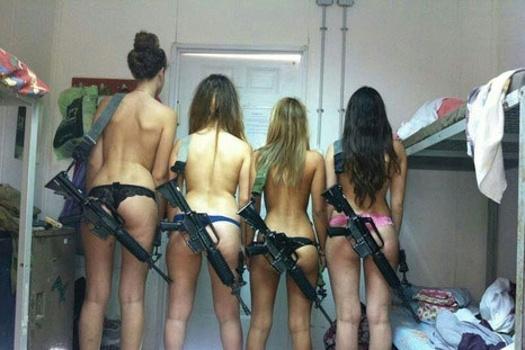 Israeli military officials did not divulge the exact nature of the punishment they face but blasted their lack of professionalism. "The commanding officers disciplined the soldiers as they saw fitting," the army said in a statement.
In an effort to encourage female conscripts to stop stripping, the military instituted a series of lectures that stressed the importance of staying clothed while on duty.
Apparently the lectures had little effect on the women because the group published three more photos after they were disciplined. In the new pictures, the women are seen wearing very skimpy underwear while they cover their breasts with rifles.