It's nothing new for an industry to complain that new government regulations are bad for business, but when the complaints are coming from the adult film biz, and the regulation in question is a new law requiring performers to wear condoms, people stand up and take notice. On Tuesday, the Los Angeles City Council voted 9-1 to approve an ordinance that would deny film permits to adult video companies that don't require their actors to use condoms. Predictably, many industry leaders were up in arms.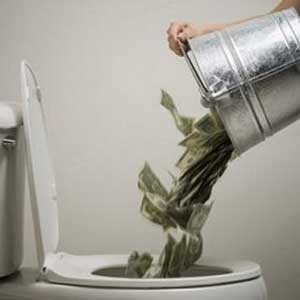 The ordinance isn't law yet — it still has to be approved by L.A. Mayor Anthony Villaraigosa. In the meantime, the City Council plans to create a committee to determine how the ruling could be enforced.
An Expensive Proposal
The L.A. City Council's ruling will have a far-reaching impact on one of the region's biggest businesses: In 2006, U.S. Internet porn sites alone generated $2.84 billion, and experts say the industry as a whole is worth $8 billion. An outsized portion of this money finds its way to Los Angeles: The San Fernando Valley, much of which lies within the city's boundaries, is America's porn heartland, and 90% of the country's adult movies are produced there. In other words, if adult film companies choose to leave Los Angeles, they'll take a lot of money — and jobs — with them.
But would adult film producers really leave Tinseltown over a little thing like condom usage? According to one of the industry's largest producers, the answer is an unqualified yes. Steven Hirsch, co-founder and co-chairman of Vivid Video, an industry leader, told the Associated Press: "Ultimately I think what they will find is people will just stop shooting in the city of Los Angeles. That's a given."
Critics of the ordinance also note that the adult film industry has a highly vigilant — and largely successful — self-policing system. Designed with the help of former adult video star Sharon Mitchell, the program has been in place since 1998, and regularly tests performers for AIDS, syphilis, gonorrhea, chlamydia, hepatitis and several other venereal diseases and disorders. New performers are required to have a full screening upon hiring, and all actors are screened once a month. In spite of the vigilance of the industry's screening program, however, there have been two AIDS outbreaks among porn performers — in 2004 and 2010 — since it was enacted.
Enforcing Existing Law
In some ways, L.A.'s new rule is actually a bit of lily-gilding, as there's already a state law on the books that would require adult film performers to use condoms. Following the 2004 HIV outbreak, the California Occupational Safety and Health Administration fined two companies $30,560 apiece for allowing actors to perform unprotected sex — an action that, it asserted, violated "the state's bloodborne pathogen standard, a regulation that requires employers to protect workers exposed to blood or body fluids on the job."
For years, safe-sex proponents have been pushing California to enforce its bloodborne pathogen standard, to little avail. Tuesday's legislative victory largely belongs to the AIDS Healthcare Foundation, which began an end-run around the L.A. City Council in 2011 by collecting signatures from voters who supported a condom-usage ordinance. According to the Los Angeles Times, the council agreed to pass the ordinance in order to avoid having to finance a $4 million special ballot on the measure.
The Ultimate Effect
Some critics argue that a mandatory condom-usage law would actually make performing in adult films more risky. According to industry experts, many customers, particularly those in other countries, won't watch safe-sex movies. Alexandre Padilla, a professor of economics at Metropolitan College of Denver, argues that the council's decision wouldn't end no-condom sex in movies, but would drive it underground, where it would be hidden from the oversight both of L.A. regulators and the porn industry's current self-policing system:

Movies featuring no-condom sex would not only still exist, but those actors and actresses would no longer be required to participate in the industry's HIV testing program, increasing the risk of an HIV outbreak in the industry and the population at large. One need only look at prostitution to see what happens when an industry operates underground.
If Padilla is correct, the council's decision might have several unintended — and dire — consequences for the city. Los Angeles is one of the more expensive locations in the country — there are several similarly sunny, urban alternatives where the cost of living (and, not incidentally, of operating a business) is far cheaper. For an adult film industry in search of a less restrictive business environment and a more attractive cost of living, Florida, Nevada, or even Louisiana may be calling.
From Daily Finanace