'TALES FROM THE EDGE' PRESENTS NEW HOTWIFING TITLE FEATURING ALL-STAR CAST!
New Sensations announces the release of "My Hotwife's Lover," the first volume in a new hotwifing series from its newly launched imprint "Tales From the Edge." Written and directed by Jacky St. James, the provocative vignette features an all-star cast and is a spinoff to the studio's 2015 AVN Award nominated chart-topper "I Love My Hotwife."
"The response and success that we saw with 'I Love My Hotwife' made it clear that there's an untapped market for hotwifing content," New Sensations Media Sales Director Belle Taylor said. "Whether people are actively involved in the hotwifing community or just intrigued by the fantasy of it, it's pretty clear the demand is there. With Jacky's enthusiasm for the genre and its impressive cast of superstars, we're confident 'My Hotwife's Lover' will be a strong performer."
"My Hotwife's Lover" features four scripted encounters in which a hotwife takes a lover, much to her husband's delight. Cover girl Karla Kush discovers her husband has arranged a romance-tinged rendezvous for her with his best friend, knowing full well she'll cave to the seduction. Chanel Preston and her hubby lure a stranger to their bed with the help of some kinky role-play. Anikka Albrite receives an anniversary massage from a hunky masseur hired by her husband to provide a blissful afternoon. Alison Tyler lacks confidence outside of her marriage until her husband hooks her up with a lustful co-worker.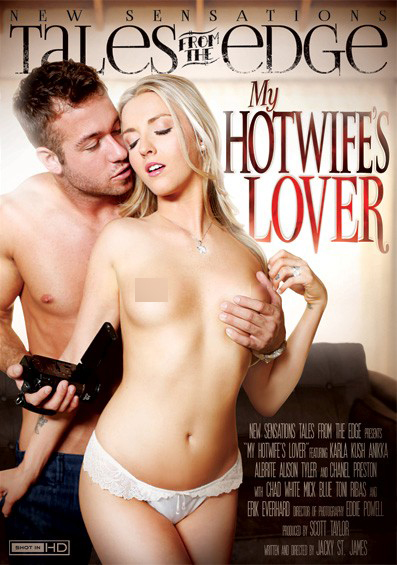 "The hotwifing genre has been such a joy to explore," Jacky St. James said. "Admittedly, I find hotwifing insanely erotic. There's something incredibly romantic about loving someone so much that there are no sexual limitations. Existing in a world with no limitations on your sexual freedoms has to be incredibly liberating!"
Hotwifing is the practice of sharing one's wife sexually with other men and deriving pleasure from watching her arousal. Not to be confused with cuckoldry, the act involves no humiliation or displays of dominance. "My Hotwife's Lover" and "I Love My Hotwife" are sex-positive depictions of the hotwifing lifestyle, inspired by true accounts.
"My Hotwife's Lover" has a runtime of 140 minutes, and includes an exclusive photo gallery and candid Behind-the-Scenes featurette. The hotwife lovers are played by A-listers Chad White, Mick Blue, Toni Ribas, and Erik Everhard.
To view the trailer for "Tales from the Edge: My Hotwife's Lover," click here.
A companion line to Digital Sin's bestselling "Tabu Tales," New Sensations' "Tales from the Edge" explores themes and relationships rooted in the traditional, but taken to the extreme and, often, taboo. The series launched in September with the release of "I Love My Hotwife," nominated for Best Vignette Release at the upcoming 2015 AVN Awards Show.
About New Sensations / Digital Sin: New Sensations / Digital Sin is a worldwide leader in adult film production, committed to creating and producing high end erotic content in a variety of genres. They have received multiple awards and worldwide acclaim for a variety of titles ranging from dialogue-driven features to all-sex releases. Their Romance Series, which boasts such popular films as, "Lost and Found," "The Friend Zone," and "A Little Part of Me" went on to inspire the creation of The Couples Series, The Erotic Stories Collection, and The Swingers Series. The Couples Series' film "Torn" and The Erotic Stories Collection's "The Submission of Emma Marx", remain two of the studio's most highly decorated films to date, with both national and international award recognition. New Sensations/Digital Sin is also known for bringing feature-quality, filmic style to their vignette series with "The Innocence of Youth" and "Tabu Tales" being some of their most popular releases. To view the latest information about all New Sensations titles, visit www.NewSensations.com, www.theromanceseries.com,  www.Twitter.com/NSDSxxx, orhttp://www.youtube.com/user/nsdsparodies