September 2, 2013 – New Sensations proudly announces the eagerly anticipated release of Second Chances, a new romantic dramedy from award-winning directors Jacky St. James and Eddie Powell. The feature stars adult sensation Carter Cruise, and marks the first co-directing collaboration between St. James and Powell since the critically acclaimed and chart-topping erotic drama The Submission of Emma Marx.
"Second Chances streets today and I couldn't be more excited for the entire cast and crew," Jacky St. James said. "This movie combines some of my favorite aspects of storytelling — humor, romance, and conflict! We've all made mistakes in relationships. Said the wrong things. Hurt the right person. And sometimes, if we're lucky… we're given a second chance to make things right. This movie is about just that. I hope everyone enjoys it "
Written by St. James, Second Chances stars Carter Cruise as a sweet and trusting college freshman betrayed by her boyfriend when he makes her the butt of a humiliating fraternity joke. Three years later, when he unexpectedly comes back into her life as a seemingly changed man, she's made to wonder if something truly wonderful can come out of giving people second chances.
"It's always surprising when new talent can take on a leading role in a feature and blow everyone away, but Carter did just that," Eddie Powell said. "She had the confidence, the directibility, the likeability, and the acting chops that holds up with even the most seasoned performers. We couldn't have asked for a better leading lady… and so early in her career."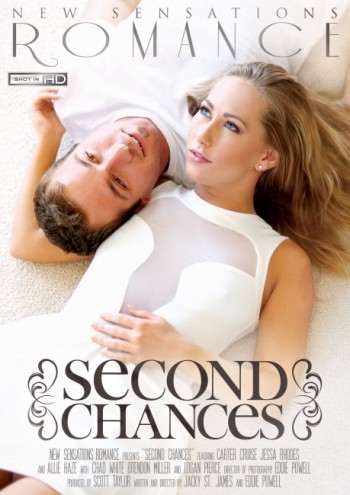 Second Chances provided St. James and Powell the opportunity to once again collaborate on a major adult feature. The duo previously helmed the multi-award winning dramas The Submission of Emma Marx and Torn.
"It was so great being able to direct again with Eddie Powell. He's one of the most talented people in the business and certainly one of the greatest collaborators," St. James said. "He brings a level of quality to every production that elevates everything and everyone involved, and he certainly did that with Second Chances."
Second Chances co-stars Allie Haze, Jessa Rhodes, Chad White, Brendon Miller, and Logan Pierce. It has a runtime of 133 minutes and includes outtakes, an alternate ending, exclusive photo gallery, and candid Behind-the-Scenes featurette.
To view the trailer and download cover art for Second Chances, click here.
New Sensations is also pleased to announce former Army serviceman Lester Liam Schild as the winner of its Second Chances Facebook contest. Schild, whose winning "Second Chance" story details surviving a near-fatal automobile accident for another chance at life and love, has won a 10 minute Skype date with Jacky St. James and Carter Cruise.
"I cannot wait to meet with the Skype winner! His story really touched my heart," St. James said. "I'm sure he'll have a bunch of questions for Carter, but he should be prepared that I have a bunch of questions for him! This could actually take longer than 10 minutes!"
St. James is coming off this year's critically acclaimed Erotic Stories feature The Sexual Liberation of Anna Lee, and is the award-winning writer/director of The Temptation of Eve. Cruise is one of adult's most popular and in-demand stars, and can also be seen in New Sensations Happy Anniversary and the Digital Sin blockbuster showcase Meet Carter.
About New Sensations / Digital Sin: 
New Sensations / Digital Sin is a worldwide leader in adult film production, committed to creating and producing high end erotic content in a variety of genres. They have received multiple awards and worldwide acclaim for a variety of titles ranging from dialogue-driven features to all-sex releases. Their Romance Series, which boasts such popular films as, "Lost and Found," "The Friend Zone," and "A Little Part of Me" went on to inspire the creation of The Couples Series, The Erotic Stories Collection, and The Swingers Series. The Couples Series' film "Torn" and The Erotic Stories Collection's "The Submission of Emma Marx", remain two of the studio's most highly decorated films to date, with both national and international award recognition. New Sensations/Digital Sin is also known for bringing feature-quality, filmic style to their vignette series with "The Innocence of Youth" and "Tabu Tales" being some of their most popular releases.
To view the latest information about all New Sensations titles, visit www.NewSensations.com,  www.theromanceseries.com,  www.Twitter.com/NSDSxxx, or http://www.youtube.com/user/nsdsparodies