In the lead-up to the general election, we have the chance to move the debate forwards, towards the full decriminalisation of sex work.
When I became a sex worker, I thought I was entering a marginal, grey area, as far away from politics as any occupation can be. Instead, I found myself part of a growing movement of sex workers fighting for our livelihoods – and winning. Worldwide, sex workers are facing crackdowns, but on 4 November, for the first time, British sex workers participated fully in the political process at Westminster, stopping legislation that would criminalise the purchase of sexual services. In decades past, sex work and party politics rarely mixed, except in reports of scandals. Our victory reflects changes in social attitudes towards sexuality, and marks a political turning point. In the lead-up to the general election, we have the chance to move the debate forwards, towards the full decriminalisation of sex work.
In order to illustrate what's changed, it's best to describe what happened a few weeks ago in Parliament. On 28 October, Labour MP Fiona MacTaggart added two clauses to the Modern Slavery Bill that would criminalise the clients of sex workers In England and Wales. This approach, referred to as the Nordic Model, has spread worldwide since its inception in Sweden in 1999, and it's often seen as a progressive step, because it aims to end demand. Unfortunately, it just pushes sex work further underground and makes it more dangerous. Sex workers worldwide have spoken up against the approach in all of its manifestations, but have often failed. Canada's version of the law, C-36, was recently passed after that country's Supreme Court threw out its existing laws against brothel-keeping, and Northern Ireland's Assembly criminalised the clients of its sex workers in October. With her amendments, snuck into the coalition's prize bill only eight days before its reading, MacTaggart and her supporters hoped to bring the Nordic Model here with almost no notice or debate.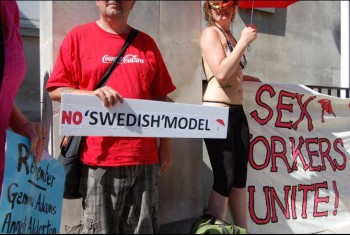 In an article offering a rare insight into the thoughts and motivations of clients, Lucy Fisher called what happened next an "uproar by pressure groups". The English Collective of Prostitutes, a national campaigning group for sex workers, catalysed that uproar with an email. "We sent out the call for people to write first of all to the Modern Slavery Bill committee, and then to their MPs, and to copy us in, and it was overwhelming, the response…It was like hundreds of people, a combination of individuals and organisations, loads and loads of sex workers," says ECP spokesperson Laura Watson. Dozens also lobbied their MPs on the phone or in person, and parliamentarians were blasted with anti-criminalisation briefings from left-wing Labour MP John McDonnell. The ECP provided meticulous research and arguments (pdf) to anyone wishing to contact their MP, and organised a lobbying day and an information session for MPs. Supporters of their campaign included academics specialising in sex work, the Royal College of Nursing, churches, trade unionists, several prominent government-funded sex work projects, women's organisations, and the Safety First Coalition, which formed in Ipswich after the murder of five street-based workers.