Courtney Stodden has revealed she has her own sex tape.
The US reality TV star – famed for marrying Green Mile actor Doug Hutchison when she was just 16 and he was 51 – is no stranger to flaunting her body in public and she has now admitted she has been filmed getting racy on her own.
Courtney insists it was shot after she turned 18 last August and she has no intention of ever making it public and doesn't even have it stored on her computer in case hackers try to access it.
Speaking at the Shekhar Rahate fashion show in Los Angeles on Thursday, she told E! News: 'Hackers, don't even go there cause you'll find nothing. It's just me. I turned 18 in August, so you do the math.

Pressed for more details, she said: 'This is personal. I don't want to put any images in people's mind; I'm going to leave it up to you guys to think what you want.'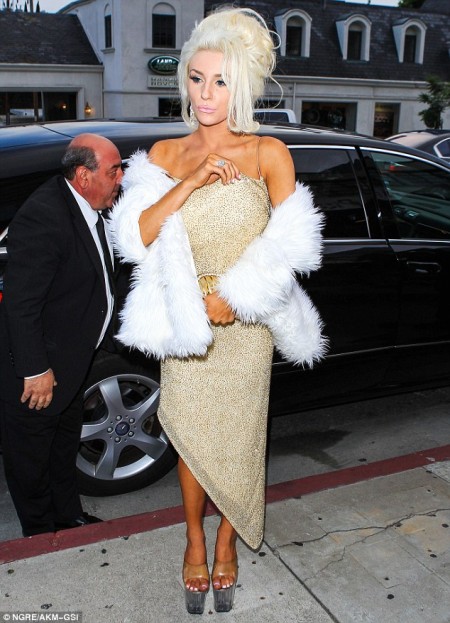 Courtney recently appeared nude in the pages of offbeat magazine Girls and Corpses and has just been photographed naked for a UK publication.
The busty blond insists she hasn't yet given up on her dream of stripping off for Playboy, even though Hugh Hefner's title previously turned her down.
She said: 'They (Playboy) haven't seen any nude photos of me yet – I haven't submitted any to them.'
Speaking about her upcoming British photo shoot, she added: 'You can keep it classy and be naked at the same time.'
Celebrity sex tapes have proven to be big business in the past several years with Kim Kardashian, Paris Hilton, Pamela Anderson and most recently Teen Mom star Farrah Abraham appearing in films which have made millions.