It's a sign of the times in South Auckland, New Zealand, where local prostitutes are being accused of destroying street signs by using them for pole dancing routines designed to attract customers.
In the last 18 months, more than 40 poles have been bent, buckled or broken in the past 18 months and the signs, which include notices of parking restrictions, cost taxpayers thousands of dollars to replace.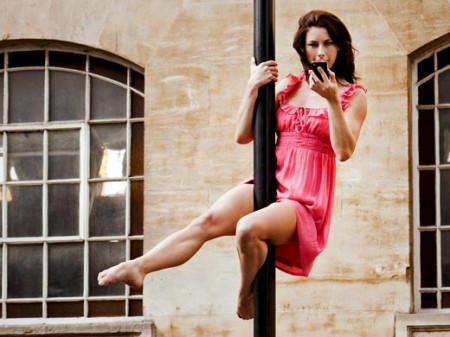 Elected officials such as Donna Lee say the culprits are local prostitutes who use them like stripper poles in a dance club.
"The poles are part of their soliciting equipment and they often snap them," she told The Telegraph. "Some of the prostitutes are big, strong people."
But some American pole dancers such as Wendy Traskos, founder of the U.S. Pole Dancing Federation, believe that New Zealand locals are being unfair to the sport of "urban pole dancing," an activity where practitioners take what they've learned in gyms or clubs and apply it to metal street signs, wooden stakes or scaffolds.
Traskos, who is working to promote pole dancing as a healthy activity, thinks that the problem may not be alleged prostitution, but the material being used on the signs.
"What exactly do they make their signs out of anyway in New Zealand? Tissue paper?" Traskos asked The Huffington Post. "This sounds crazy and maybe the city needs to rethink what they make signs out of, if a 125-plus pound woman is going do destroy it by doing acrobatics on it."
Kelly Blake, a pole dancing instructor in Sarasota, Fla., says "street pole dancing" is actually a good way to take away the strip bar stigma that is still associated with the sport.
"It's fun to do it at a busy intersection and get people to look at you and they don't look at you trashy," she told HuffPost last year.
"Charley" Crystal Harris, a pole dance instructor in Pontiac, Mich., warned would-be "street polers" that they could get some strange looks.
"It can go both ways," she said. "Some people will give you funny looks and assume we're strippers who just don't have a pole. But, really, we're just doing tricks. It's not like we're bringing music to the park."
Locals say the destroyed street signs from pole dancing prostitutes are just one sign that things need to change and have issued a tell-all report that the pole dancing street walkers are leaving behind drugs, feces and used condoms, Stuff.co.nz reported.
John Lee said he was forced to move from the Papatoetoe-Otara area 10 years ago when he saw a couple having sex against his fence in full view of his 10-year-old daughter, he told TVNZ.
Bernie Taylor, who lives in a neighborhood known as Hunter's Corner, says things have gotten worse.
"We had a parcel delivered to us recently and the address was 'Hooker's Corner' and it found its way to us with no problems whatsoever," Taylor told TVNZ.
Source: Huffington Post