Of course I made the title up. But I'm sure AHF will connect the two
Rates of sexually transmitted diseases have doubled for people in their 50s, 60s and 70s in the past decade, a new study found
The sex life of older adults – long ignored and little researched – is getting new attention in the face of some staggering statistics.
Rates of sexually transmitted diseases such as chlamydia, gonorrhea and syphilis have doubled for people in their 50s, 60s and 70s in the past decade, but safe sex awareness among older adults and its promotion by doctors is still lagging, according to an article published today by researchers at Kings College and Saint Thomas's Hospital in London.
According to the U.S. Centers for Disease Control and Prevention, there were 885 reported cases of syphilis in 45- to 64-year-olds in 2000; in 2010, there were more than 2,500. In 2000, there were 6,700 cases of chlamydia in this age group; the number ballooned to more than 19,000 by 2010.
The numbers of older people with HIV has nearly doubled, and 15 percent of new diagnoses of HIV in the U.S. were in people age 50 and older in 2005, which is the most recent year that the CDC calculated the risk for this age group.
The researchers say it's hard to know just why STD rates are on the rise among older people, mostly because there's been so little research on the sex lives of older adults.
"Unfortunately, until the public health data started to show a rise [in disease rates], no one did any research at all," said Rachel von Simson, the report's lead author and a medical student at Kings College London. "We just know there are more infections being diagnosed now than in the past."
Biological changes and the rise of drugs for erectile dysfunction may be setting the mood for the rise. Postmenopausal changes to the vagina, such as decreased lubrication, make older women are more vulnerable to infections, and popable pills like Viagra let men have sexual intercourse at older ages than ever before.
Eli Coleman, director of the Program in Human Sexuality at the University of Minnesota Medical School, said longer lives and more divorces may be leading older people to have more sex partners than in years past. The generation's view of condoms and safe sex is also probably less well-informed than their children's.
"People are making midlife changes and going back into dating and maybe never have used condoms when they started out many years ago," Coleman said. "They also think of their grandmother's old-fashioned condoms and know nothing about the availability of them now or how to use them."
A 2010 study of sexual health from Indiana University found the lowest rates of condom use were among people ages 45 and older.
The authors of the current study said doctors often shy away from discussing sexual health with their older patients or may not view STDs as a risk at all. And health education campaigns heavily promote safe sex for teenagers and young adults, but ads urging older adults to use condoms are rare.
"People think this is a problem of youth, and there's a sense of invulnerability and ignorance among older adults," Coleman said. "We need to urge physicians to not look at some patients as not at risk."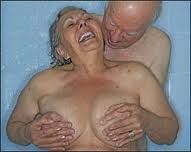 Source. ABC NEWS