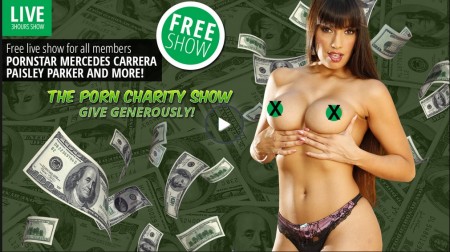 If you haven't already heard, The Porn Charity will host its first live stream event January 2nd from 12pm- 3pm PST on webcams.com. This great event will go to fund the Second Circle Scholarship, a collaboration between The Porn Charity (theporncharity.org) and The Fine Young Capitalists (thefineyoungcapitalists.com).  The scholarship will be merit based and benefiting students in the STEM fields (science, technology, engineering and mathematics).
The accompanying IndieGoGo campaign was launched at 8pm on January 1st, and at this writing three hours later had already accomplished over 120% of it's stated goal and is still gaining traction. [$1,621 raised currently – Ed.] Many perks are available through the IndieGoGo Campaign including specially commissioned artwork of Mercedes Carrera and Vivian James featured as the Goddess Athena. Additionally, t-shirts, mugs, a recording of the live stream girl-girl hardcore cam show and other perks featuring Mercedes are available at the campaign link. (https://www.indiegogo.com/projects/the-tfyc-and-the-porn-charity-live-show/x/9455415#home)
To tune in on January 2, go to webcams.com! Joining Mercedes will be Paisley Parker, Selma Sins, Mia Austin, Nadia Styles and Holly Heart. The show will be free to watch and the girls will be doing some amazing performing together and solo! Tips donated to the show will be matched by webcams.com, so make sure you get in on the fun!
Together, by watching porn, we can make a difference!
This Illustration depicting Vivian James as the Goddess Athena as envisioned by Gonzalo Ordonez Arias is available as both a T-Shirt and Poster.
This beautiful representation of Mercedes Carrera as the Goddess Athena as illustrated by Andres Blanco is available as both a Poster and a T-Shirt.
About Mercedes Carrera:
A card-carrying member of the Illuminaughty, Mercedes joins the adult industry with a background in mainstream modeling and acting as well as education and work experience in engineering. She was scouted to one of the most prestigious fashion modeling agencies at the age of 13, earned her SAG/AFTRA membership as a teenager, and worked consistently for large commercial print magazines, catalogs and commercials.  After returning to university and majoring in manufacturing engineering with an emphasis on systems quality assurance, she worked in aerospace systems specializing in thermal testing for space based optics. She also worked as a telecommunications engineer and trainer, and in mainstream technical photography and film production. She's excited to join the adult industry and brings 17 years of performance talents to pornography. She still is actively involved in technology in her spare time, and enjoys video games, chess and playing the piano, in addition to being an all-around irritant to anti-sex radicals. Mercedes is also an active philanthropist and donates her time and money to various causes on an ongoing basis. Mercedes will be signing at the 2015 AVN Adult Entertainment Expo this January in Las Vegas. Details TBA.
Mercedes can be booked through ATMLA. (http://atmla.com/atmla2/tour/performers/38027-pornstar-mercedes-carrera/details.php)
Fans can set up a private video session with Mercedes at http://AVVC.co/@MercedesCarrera
Buy Mercedes a present from her Amazon Wish List (amzn.to/1ti7ytt).
Follow her on Twitter @TheMercedesXXX and like her official Facebook page.
Mercedes Carrera is represented exclusively by Porn Star Ink for public relations. To find out more about Porn Star Ink, visit the website at www.pornstarink.com. To inquire about representation, or for media inquiries, contact matthew@pornstarink.com.