LONDON: Porn star Holly Henderson has received death threats from internet sickos – after she revealed how she "rinses" rich men in a Channel 4 documentary, reported British daily The Sun on Thursday.
The busty glamour girl, who has been linked with Man City bad boy Mario Balotelli, was seen nabbing thousands of pounds of freebies, infuriating viewers with her choice of "career".
Some even said Holly, who appeared on the programme with other "rinsers", deserves "to get cancer", while web trolls besieged the mum with cruel insults about her "ugly" looks.
Even celebs tweeted their shock at Holly and her pals' behaviour.
Corrie's Michelle Keegan revealed her disgust at the mistress of manipulation's antics, writing that she felt "sick" and blasting Holly for not finding a job to "buy your own f****** bag".
And her Street co-star Brooke Vincent described the behaviour as "degrading to any woman".
Rugby star Ben Foden admitted: "Some women are brutal, some men are muppets".
Meanwhile, viewers of the Sex, Lies And Rinsing Guys, which aired on Tuesday, flooded Twitter with comments expressing their disgust.
Brett Gardner said: "You put the female race to shame. Your (sic) the sort of person who deserves cancer." And Thomas Ketley added: "Do you have no shame? People like you make the world worse."
Holly, real name Jeannette Worthington, hit back, claiming it was "only a TV show" and said she had a proper job in real life.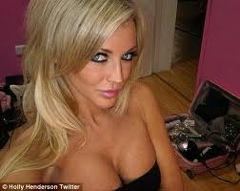 Source. The hymalayin times