In recent years, if not exactly mainstream, the porn star became a recognizable popular culture figure. She was a raunchy symbol for a debauched time. Placed on a pedestal, the porn star was OK with us gazing up her skirt. During the aughts, porn stars penned bestsellers and helped stock cable-reality-show casts. Even in suburban malls "Porn Star" T-shirts were ubiquitous. There were Jenna Jameson, Tera Patrick, and Sasha Grey: all were well known in mainstream pop culture. They appeared on magazine covers, hosted nightclubs in Las Vegas, and starred in music videos by popular bands.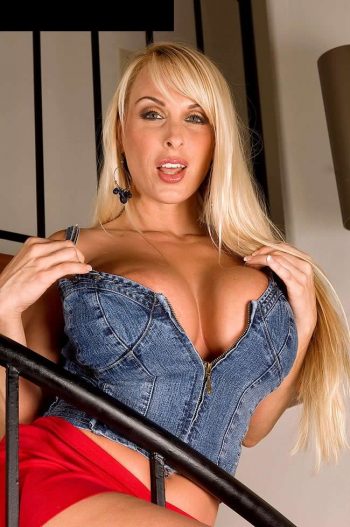 Then the moment passed.
As if to underline the lack of star power in porn these days, at the AVN (Adult Video News) Awards in Vegas last month, three of the nominees for Crossover Star of the Year were primarily known for encounters with Charlie Sheen (Capri Anderson, Kacey Jordan, and Bree Olson). And the winner of Crossover Star of 2012? Fifty-eight year-old Ron Jeremy.
The veteran Jesse Jane (who appeared on the cover of Drowning Pool's disc Desensitized in 2004) remembers when things were different. With almost a decade making movies, Jane is one of the few stars left from porn's pre-recession, golden crossover years. "I came in at the perfect time when people still cared about stars," she says. "Now, no one has a fair chance at what happened for Jenna, Tera, and me."
"It's a permanent change," says Alec Helmy, publisher of adult industry trade publication X-Biz. "It is similar to what happened to radio jockeys."
There are certainly still plenty of big names known to porn fans, including Jessica Drake and Asa Akira. But the days of porn stars gaining ubiquitous success have come to an abrupt halt.
In the industry, no one is exactly sure why. The theories offered by agents, performers, and directors vary. Steve Javors, of another adult trade publication, AVN, thinks porn stars are victims of the economy. "What is happening to porn stars is the recession," he says. "Companies don't have the money to market stars that they did a few years ago. Porn stars will come back."
But others in the industry think the brief period when porn minted celebrity has passed for good. One constant mentioned by all interviewed: the near unlimited number of women who are willing to do scenes. These days, the term "porn girls"—as opposed to "stars"—has started to gain currency reflecting the more vocational quality of a contemporary career in porn.
"The sex is the only part about being a porn star these days that is not hard work," says porn's current It girl, Brooklyn Lee.

"The market is oversaturated now," says Brooklyn Lee. Lee is porn's latest It girl. At the AVN Awards, Lee, 22, won five awards, including Best New Starlet. She says: "There used to be a few hundred girls and now there are thousands. So porn superstars have fallen by the wayside. There aren't girls like Tera and Jenna, who transcend the boundary of the industry anymore."
Jesse Jane agrees. "The industry is so oversaturated with girls," she says. "I've been in the business nine and a half years, and I can barely tell you who is in now."
Mark Spiegler, a talent agent who launched Sasha Grey's career and manages some of the top names in the business, including Lee, now turns away more aspiring porn stars than ever before. He notes that if a lot of people are willing to do a task, the star aura of the performers quickly vanishes. "A few years ago there were 100 girls in the entire industry, and now 100 girls enter the industry each week. They used to all be stars; now they all just think they're stars." The result, Spiegler says, is that "they've become interchangeable."
One 35 year-old fan attending the Vegas porn convention, who did not want his name used, put it this way: "A few years ago I would rent porn DVDs based on who was on the box cover. Now, I am on the Internet always wanting to see someone different."
The recession may be one reason, again, for the unprecedented number of women who want to shoot sex scenes. Another reason offered by Spiegler is the change in a porn star's status from the stigmatized margins. "Ten years ago a girl fell into porn," Spiegler says. "Now there are a lot of girls who dream of doing porn."
As with any labor oversupply, the result has been a phenomenon perhaps unique to this Great Recession: unemployed porn stars. "For a lot of girls, it is a struggle," says Lee. "I know a lot of beautiful girls who do great scenes who can't find work."
Many of these underemployed performers find alternate ways to earn a living, all of which further erase boundaries between porn stars and fans. "A lot of girls will do movies as publicity," says Jane. Then the women monetize that publicity via social media, selling custom DVDs, live cam shows, and, of course, prostitution.
Then there are file sharing and tube sites. "Piracy is a huge factor. People don't look the same way at free content," says X-Biz's Helmy. "Porn stars became like rock stars a few years ago because so many people were buying porn. But free doesn't create that same impact. The Internet is a flatter landscape for porn stars, because of piracy. You still have big names, but they won't have the same impact as Jenna."
Despite the smaller stakes, success in porn now requires all the schmoozing of any competitive career. Lee says: "I spend most of my time trying to make contacts and do the business side. The sex is the only part about being a porn star these days that is not hard work." Despite her career being on fire now, she knows that means a lot less than "back in the day," by which she means around 2006. "I have done a Pink video, but there really isn't the mainstream opportunities like I heard existed for Jenna and Tera."
Jane says of porn today, "The industry has lost a lot of glamour."
Lee doesn't disagree. "For me, it is still worth it," she says. "For a select group of girls, it is worth it. I got into this because it was intriguing to me. I always watched porn. It is not easy money. I feel lucky I get to work four or five times a week."
http://www.thedailybeast.com/articles/2012/02/27/porn-stars-the-death-of-a-sex-industry-profession.html