April 27, 2015 – VAN NUYS, CA | Pure Play Media is happy to report that SCORE Studio's Mia Khalifa is on AdultEmpire's Top 10 Bestsellers List. The leading category retailer accounts robust sales on the Lebanese starlet's first XXX scenes ever, distributed to DVD by Pure Play Media.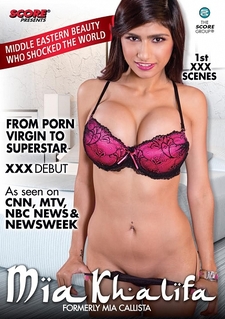 "Preorders for
Mia Khalifa
were through the roof, but the true litmus test of this DVD's popularity is AdultEmpire's Top 10 Bestsellers List," Pure Play Media Sales Representative Hyland said. "AdultEmpire is one of the biggest online retailers for DVD and VOD, and we are so pleased that SCORE can measure its success with Mia Khalifa by such a high standard."In
Mia Khalifa
, you'll see this curvy girl-next-door turned porn star in her first ever XXX scenes, featuring in-depth interviews, deep-throat cock sucking, and taking hard cock in her tight, young pussy… scenes fans around the world had been waiting to see.
Captain Jack of Adult DVD Talk comments in a pre-release review, "The cameraman conducts a fun interview with her and it seems that Mia was his server at a local burger joint when she was discovered…It's quite exciting! We got to learn a lot about this Lebanese beauty."
Bono-ONE, another Adult DVD Talk reviewer, comments, "Mia had talked [in the interview portion] about how she was sexually active before porn, so her blow job here looks very natural, and she can deep throat, which should please a lot of you."
SCORE Studio is currently available exclusively in the United States through Pure Play Media.
For Wholesale Information, Contact Hyland:  hyland@pureplaymedia.com , 818-989-1570 (x3256)