Adult entertainment superstar
Tanya Tate
(
www.TanyaTate.com
) is featured in a video produced by pop-culture site
Ranker.com
counting down her Top 5 Favourite Doctor Who Companions.
Tanya
, no stranger to sci-fi, has established her self in geek culture as a cosplay superstar and blogger on
JustaLottaTanya.com
. The well known personality has become a staple at events like San Diego Comic Con. Ranker, provides crowdsourced rankings of everything by offering a platform for making lists about any topic.
Tanya
was tapped to talk "Who" for a special video.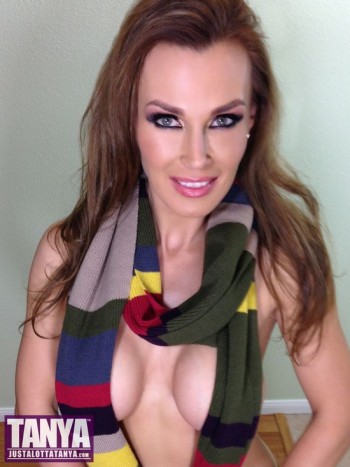 "I am a huge Doctor Who fan going to back to Tom Baker," said Tanya of the Fourth Doctor. "So, given the opportunity to count down my favourite companions, of course I did it! I want all the Whovians to give it a watch, but don't kick me out of the Tardis when my #1 companion is revealed."
Ranker's video of Tanya Tate's Top 5 Doctor Who Companions can be found here: http://bit.ly/RankerTanyaTateTop5Who.
It was only a matter of time before Tanya found herself on the inside of a comic book and E-Comix has become the first to do it with the new series, Pussycats. Issue #0 has just hit comic book shops and is already a hit. Tanya makes a featured appearance in the action/thriller tale of sexy Cold War era spies. Written by Vince Brusio with interior art by Ivica Sretenovic and cover art by Mats Engesten information on Pussycats can be found on the E-Comix's website: http://www.e-comix.net. "The art is lovely. Vince and his team have created something incredible. The story is intriguing and fast paced. I would not be surprised if we start seeing cosplayers dressed as these characters at San Diego Comic Con this year," said Tanya.
Who tops Tanya Tate's top 5 Doctor Who Companions? Find out on Ranker.com! Then hit your local comic book shop for sex, spies and Tanya Tate in Pussycats from E-Comix.
For more Tanya Tate please visit the Tanya Tate network:
www.TanyaTate.com
www.JustaLottaTanya.com
www.TanyaTateStore.com
www.Twitter.com/TanyaTate
www.ItsMyUrls.com/TanyaTate
Tanya Tate is self represented and can be booked directly:
www.BookTanya.com