Great Reviews Rolling in for Recent Remy Releases
VENICE, CA – You could see it in people's eyes as they looked at Remy LaCroix onstage at the 2015 XRCO Awards over the weekend: everyone loves her and most are a little awed by her.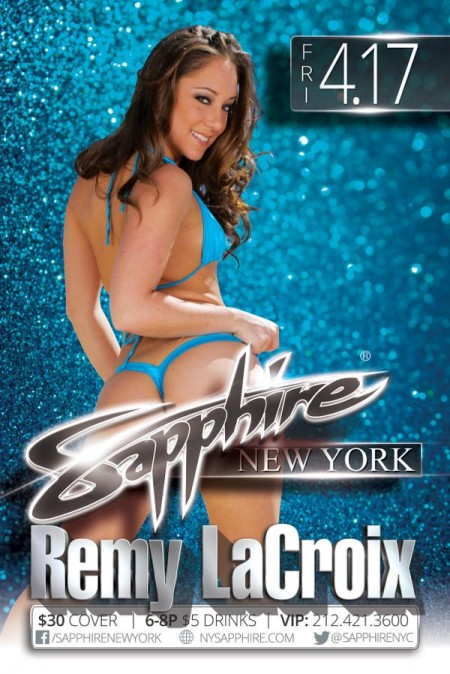 It's not unlike the reaction we have when we watch her movies. She's been a reviewer darling and fan favorite ever since her first scenes came out and that love affair certainly continues today. Several recent reviews remind us of her wonderfulness (as though we really need porn scribes to do that!).
Remy is an ArchAngel contract star and one of her releases for the company received 5 stars from Captain Jack at Adult DVD Talk.
"Wow. Wow. Wow. Wow. Wow. What a fucking awesome release from Mimefreak and Arch Angel!!" he writes of #MyAss. "This was an exceptional anal release! It has everything you would want in a release and more! Maddy, Remy, Jada, Lola and Bonnie are beautiful women and tremendous talents! And, actually, all five of them can go only by their first names and they know exactly who you're talking about! This disc should be immediately added to your collection! Great job all around!"
In the ADT review of Remy, they tell us that "Remy is a superstar in the adult industry and this is a nice showcase for her skills. All the main food groups are covered in this one including B/G/G, B/B/G, G/G and IR. Plus, Remy takes it up the ass, gets DP'd and breaks out her hula hoop!"
Dandaman also wrote about Remy, saying the star is "one of the prettiest girls in the business" and that "nothing is held" in the movie. "You better get your copy now," he concludes.
Getting right to the point, Bono-ONE wrote of that movie "Needless to say if you're a Remy LaCroix fan, this release is a must have. Four more hot scenes featuring this pretty lady. Two sexy co-stars, too, with Veronica Rodriguez and Mia Malkova appearing alongside Remy in this. Highly recommended!"
On Friday, April 17 Remy will be featuring at Sapphire NY for an amazing one-night-only/one-show-only engagement. She will be available for autographs and photo opportunities. For more information go to http://www.nysapphire.com/NY-Sapphire-Adult-Star-Remy-LaCroix-Live.html.
Remy has signed on with Juliland, which is featuring her blog as well as exclusive content shot by Richard Avery on www.RemyMeow.com.
Check out Remy LaCroix on Twitter @remymeow and Instragram (ugottabekittenme). For everything Remy go to http://risingstarpr.com/news/?page_id=7750.