Yesterday a WDBJ reporter instructed his readers to look up porn on the internet'
Former porn star Harmony Rose is volunteering as an EMT for the Cave Spring Rescue Squad in Roanoke, VA.
While covering the controversy that her new post has stirred, WDBJ reporter Justin McLeod pointed out that the rescue squad has probably never had a volunteer like 29-year-old Harmony Rose. "She's a former porn star," he said, "Just Google her name and you'll find hundreds of pornographic videos of hers."
One audience-member commented, "encouraging others to google sexually explicit material is shameful."
Apparently the station agrees because WDBJ removed McLeod's suggestion to Google Harmony Rose to find her porn videos.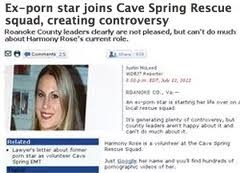 Nydailynews