Los Angeles – Ryan Riesling may only have a few scenes under her belt, but she's already making a name for herself in the industry. Her first scene for Dogfart's Black On Blondes site gained so much attention, it helped Ryan win the company's Girl Of The Month title for July. And now that incredible scene is available on "Interracial Ghetto Gangbangs", released today. This is Ryan's first DVD release, as well as her first IR and gangbang scene.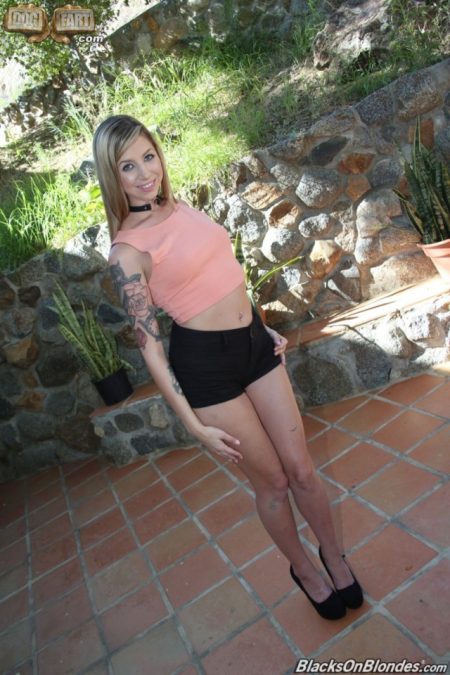 In this scene, the rent is due for the home Ryan shares with her all male roommates. Being the only girl in a house full of guys and having to come up with rent may be intimidating for some girls, but not for Ryan. She always has a plan for paying the rent: letting her black roommates gangbang her. When Ryan announces to her roommates that it's time to pay the rent, they stop their card game and get in line. Ryan lets each roommate take a turn in her mouth and then each takes a turn in her pussy. The pay day comes with a creampie and a face full of jizz for Ryan.
Ryan is delighted about her first DVD, as well as her experience working with Dogfart, commenting, "I'm so excited for my first DVD to come out! Dogfart was a great introduction to IR and now I'm an insatiable BBC slut! Please check out the DVD!"
Director/auteur Billy Watson was extremely impressed with Ryan, stating "It's always a pleasure working with Ryan Riesling: she's punctual, professional, friendly, and always willing to work her hardest in order to achieve a director's vision. Directors and Producers talk amongst one another, and I'd highly recommend her for anyone's set. I wish there were more Ryans in Porn Valley!"
Directors and producers who would like to work with the reliable and hardworking Ryan can book her through OC Modeling. Ryan will be back in LA September 12th through the 17th and is available for B/G, B/B/G, G/G, gangbangs, blowbangs, orgies, IR, and more.