Oracle OpenWorld 2013 is underway in San Francisco, but one mess from Oracle OpenWorld 2012 may still need to be cleaned up.
A San Francisco strip club is suing Oracle for refusing to pay a nearly $34,000 tab that an employee of the technology giant allegedly racked up on a company credit card during last year's annual tech conference.
According to the San Francisco Chronicle, New Century Theater–an upscale, all-nude gentlemen's club–claimed an employee identified as Jose Manuel Gomez Sanchez used an Oracle-issued American Express card to pay for $33,540 in unspecified "services" over two nights in October 2012. Oracle has allegedly refused to honor the charges.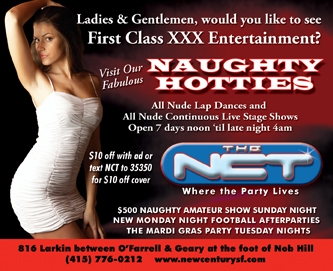 In a phone call with The Huffington Post, a spokeswoman for Oracle declined to comment on the suit. The attorney representing New Century Theater also declined to comment, but said the lawsuit speaks for itself.
The suit comes at an awkward time for Oracle, which opened the doors on its five-day conference on Sunday. In an opening speech, founder Larry Ellison touted faster databases and a slew of new products, AllThingsD reports. Oracle is also sponsoring the U.S. team in the America's Cup sailing race, which is entering its final days.