SOME of Queensland's most popular school holiday haunts are listed as the top ranking spots to have random, gay, public sex.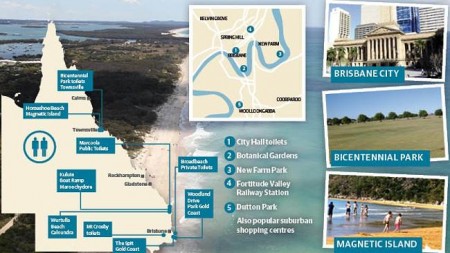 One online sex hook-up site names hundreds of gay "beats'' throughout the state and gives parks, beaches and shopping malls a five out of five rating. BMX parks, public swimming pools, campsites are also promoted. There are several gay cruising sites.
Smartphone apps with GPS technology are attached to some of the websites and allow anonymous liaisons within a moment's notice. The user can find "men looking for sex soon'' at a nearby location.
Brisbane metro has 128 listings on one site alone. New Farm Park, The City Hall, Botanical Gardens, supermarket washrooms, several railway stations, gyms and many public toilets are included. Most locations are illustrated with photo and are rated. Many have 100 comments from users.
"There has been an explosion of gay sites," said Paul Martin psychologist and advocate of the Lesbian, Gay, Bisexual, Transgender and Intersex community.
"Gay men have always met publicly to have sex but it used to be within the network of their own area, technology makes contact limitless and instant. It is usually not heterosexual behavior as women in general do not get the same thrill from anonymous public link-ups."
Mr Martin added: "But I can tell you for sure that 99.9 per cent of the gay community would be opposed to listing any places where children might be. I've never met a gay guy who would approve of that.
"Research shows that gay parents are the same in all levels of parenting as heterosexual. Anyone gay or straight would believe that hooking up anywhere near children is criminal. From my work I know that scenario would be psychologically damaging to any child.
"Sadly there is always a small part of any community that brings others down. But sites where people of any sexuality can connect is a good thing, especially for people isolated in regional areas,'' said Mr Martin.
A Queensland man, who seeks out "consensual safe sex with others but at home'' contacted The Sunday Mail, vowing to shut down the listings of family spots.
"Think of every park, shopping center, beach etc you and your family have been to and there will be a listing on these sites,'' he said.
Public sexual acts are illegal under the Criminal Code Act Section 227 and could lead to a two-year prison sentence.
CRUISING DIRECTORY
— Thousands of public sex listings
— Local parks, rest stops and washrooms
— Find glory holes
— Bars, sex clubs and bathhouses
— Help plan your travel encounters.
Source