The recession has led to a boost in the sales of sex toys as more and more couples opt for indoor fun with three-quarters of women in Britain now owning one.
Global sales of vibrators and other sex toys soared to £5.5billion-a-year [approximately $8.9 billion USD]  and are to set to rise to £40billion [approximately $64.5 billion] by 2020 – matching those of smartphones.
But one town in Britain spends four times the national average – 62 pence per head – on erotic accessories according to analysis by an online sex shop.
Voted the best place to live in Britain in a poll by the Halifax bank, Fleet, in Hampshire, was top of the table for spending on sex toys.
According to The Sunday Times, it was closely followed by Didcot in Oxfordshire, Godalming in Surrey and Basingstoke in Hampshire.
Co-owner of Lovehoney Neal Slateford, a former record producer for Kylie Minogue, who carry out the survey, said celebrities opening up about their sex lives had been a key sales driver.
He said: 'A famous celebrity will give a big interview about their sex life or their love of sex toys and we will see a flurry of sales afterwards.
'It all started with Sex In The City – which was incredibly liberating for women, especially after Charlotte became a virtual recluse after buying a rabbit vibrator at New York's famous Pleasure Chest sex store.
'Suddenly ordinary women weren't afraid to talk about their sex lives and their use of sex toys.'
'It's great that celebrities are being more honest about their sex lives. There has been such a huge change in people's attitudes over the last 10 years.
'Now mainstream retailers like Boots, Tesco and Superdrug sell sex toys.
'Take a walk down the pharmacy aisle and you'll see vibrating penis rings and bullet vibrators alongside the condoms.'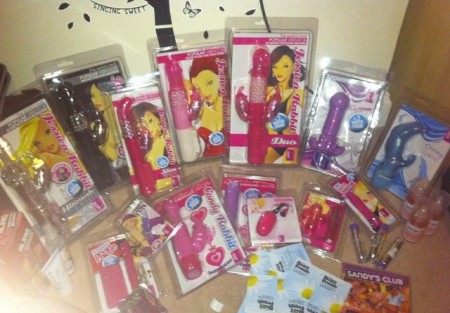 Channel 4 is reflecting the trend with an hour-long documentary on Tuesday night called 'More Sex Please, We're British' about the online sex toy retailer, Lovehoney.
According to the counseling service Relate, women are becoming far less shy about sexual aids, which is only increased by celebrities being more open about their sex lives.
Several female celebrities talked openly about their favorite sexual positions in US TV interviews screened earlier this week.
Asked for her favorite, Oscar winner Gwyneth Paltrow, 39, wife of Coldplay singer Chris Martin, said: 'I'm down with all of them.'
Zoe Saldana, 33, star of Avatar and Pirates of the Caribbean, said: 'I like missionary and I like being on my knees too. And I love being on top or standing up.'
Meanwhile, the X Factor star Tulisa blushed when her rabbit vibrator accidentally went off in her suitcase when she was picking up her baggage at Miami airport.
Desperate Housewives star Eva Longoria, 37, revealed that some of the best sex she had ever experienced was with a sex toy.
She said in an interview: 'I own two and I have a Rabbit one. I give that as a gift all the time. It's the best gift to give – an orgasm.'
Teri Hatcher, 47, also from Desperate Housewives, said: 'To be honest, I don't know what I want a male for. I have some fabulous electronics to use instead. And any woman who tells you she doesn't is lying.'
Myleene Klass, 34, is another vibrator enthusiast – buying them for showbiz pals such as Suzanne Shaw, who she sang with her in the band Hear'Say.
Source: MailOnline