Sex workers in Ecuador are looking to be incorporated in the social security system under the recently passed Law for Labor Justice and Social Security.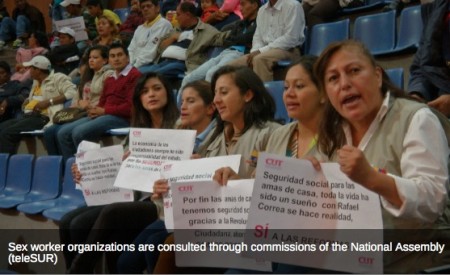 Lourdes Torres has been working as a sex worker in Quito, Ecuador for the past 30 years. She was driven to create the Pro-Defense Association of Women after suffering abuse at the hands of police, exploitation by pimps and violence on the streets. The association works with other organizations and national authorities to ensure greater rights for sex workers.
"Today, things aren't like they were before. Before, they would arrest you in the street, just for being a sex worker. Your documents were worthless. We were criminalized just for being there," Torres told teleSUR English while accompanying sex workers at a health clinic in central Quito. "I was raped by the police. They would find me somewhere, in a restaurant maybe, and they would take me out and put me in the police car under arrest, because they already knew who I was."
For Torres and other sex workers, things have changed.
"It's not like this now. Now there is an emphasis on protecting our rights. Now we are taken into consideration. I have my ID card. I am Ecuadorean. I am a women. I am of legal age and I have the same rights as anyone else. It doesn't matter if they find me in a night club. Why don't they judge the men that are in a night club? Why am I judged? So we have to defend our rights." Sex worker organizations have experienced significant gains in their fight for adequate healthcare. Before with just one health center serving the entire metropolitan district of Quito, in half a decade seven centers have been built throughout the city with the capacity to serve a total of 150 sex workers daily. These women take monthly and annual tests for sexually transmitted diseases as well as general checkups, and they are now able to receive psychological care.