Kink.com, the world's largest producer of BDSM and fetish entertainment has opened the world's first erotic haunted house. "Hell in the Armory" runs all this month in the 100-year old San Francisco Armory where the company shoots its adult films. While the erotic haunted house isn't nearly as explicit as the company's films, parental guidance is strongly suggested.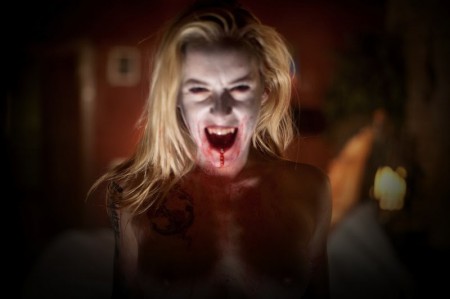 "We know that many people find Kink's films scary, so we wanted to have a little fun with that," said Andrew Harvill, the producer of the event. "The Armory building itself is actually haunted, so setting up a real haunted house tour using our dungeons and sets was a natural fit. It's both terrifying and, depending on your kink, arousing."
To create the world's first erotic haunted house, the porn company partnered with legendary San Francisco's Vau de Vire Society, a subcultural circus with an eye for the extreme.
While this is the first haunted house of its kind, the concept itself has long been part of our culture. Harvill cites slasher films, like Nightmare on Elm Street and Friday the 13th, that long mixed sexual tension with fear. Still, the tour is a far cry from a sexy nurse Halloween costumes that proliferate in more mainstream venues.
"The two emotions, fear and sex, are inextricably linked. We wanted to play off that and offer people a truly old school scare in an unexpected setting."
"Hell in the Armory" runs now through November 1. For tickets and other information, visit HellIntheArmory.com
"Hell in the Armory" Haunted House Details
www.HellintheArmory.com
Runs Through Nov. 1, 2014
Tuesday-Saturdays
7pm-12am
San Francisco Armory
1800 Mission St.
San Francisco, CA
Interviews, video, photos, press tours and assets available.
FOR MORE INFORMATION:
Mike Stabile
Media Relations
See a review of Kink's "Hell In The Armory" here