After a great deal of thought, including the possibility of a European stop, Sara Jay & Siri are proud to announce that Las Vegas, Nevada has been selected as the official city for #TeamBJ 2014's World Cup BJ Payback!
The date selected (to give you all lucky fans time to prepare travel plans) is September 4, 2014.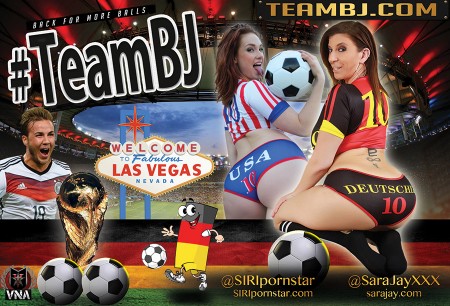 ANY Follower of BOTH @SaraJayxxx and @SIRIpornstar who followed BEFORE gametime of the Germany vs. Argentina game is invited to attend.
NOTE!!! As with #TeamBJ 2012 in Miami… you WILL be filmed and this WILL end up on the internet. If you have the balls to come to Vegas and have the time of your life with two of the hottest girls in adult, this is your chance. We likely will NOT host in the USA for any future event again.
***IF YOU MAKE TRAVEL PLANS MAKE SURE ALL TRAVEL PLANS CAN BE CANCELLED IN CASE THIS EVENT IS RESCHEDULED***
***DO NOT MAKE TRAVEL PLANS AT ALL UNTIL YOU ARE A CONFIRMED PARTICPANT***
We are in the process of planning the event. We need to confirm exactly how many fans are going to attend. So…
EMAIL the following to info@officialteambj.com NO LATER THAN AUGUST 7 the following:
1. YOUR NAME
2. YOUR PHONE NUMBER
3. TWO FORMS OF ID (Driver's License for example)
We will add fans to the list in the order received. Members of Sara Jay's and Siri's site will be given priority.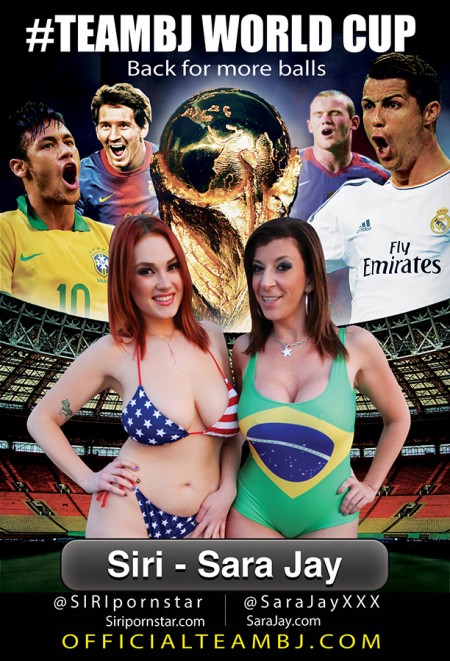 Sara Jay is quoted as saying: "Twitter was off the hook during the World Cup.  Fans were tweeting me their actual addresses after the game. If you are my follower on twitter, get to the event.  If it takes us a day or a week, I still have my knee pads from my last #TeamBJ and am ready to deliver.  I invite the German players to come party with us in Vegas….  they deserve a BJ as much as anyone."
Siri adds: "I am looking forward to the event. It's my first #TeamBJ so I hope a lot of my fans take advantage of what could be a once in a lifetime opportunity. What if Germany had lost on Sunday?  I am thrilled Germany beat Argentina and my loyal Sirians are in for a treat."
Check back for more details. We will be posting regularly!!
Yes… there will be BJS… yes… you can get one. This HAS been done before in 2012 and it was released on a DVD that you can watch at SaraJay.com, AngelinaCastroLive.com or by ordering a copy here.
The girls would love to see you. Let's party!
About #TeamBJ, Sara Jay and Siri
Sara Jay is in the Urban X Hall of Fame and won the Nightmoves Award for Best Boobs 2012. Siri won Miss Freeones Best Newcomer in 2012, was nominated by AVN for Best New Starlet 2013 and won TLA RAW Female Performer of the Year 2014.
#TeamBJ became famous at the 2010 WorldCup when porn stars Bobbi Eden, Vicky Vette, Gabby Quinteros and Miss Hybrid promised bjs if Holland won. Worldwide press included the Huffington Post, Yahoo Sports, ESPN and sports radio stations around the world.  Holland lost in the finals to Spain. In 2012, #TeamBJ returned for the NBA Finals when Pornstars Sara Jay & Angelina Castro promised BJs if the Miami Heat won the NBA Finals (resulting in a threat to sue by the NBA).  High profile media appearances included Russell Brand's show on FX Network.