Adult Stars Siri and Sara Jay announce the release of their highly anticipated new DVD '#TeamBJ 2 – Back for More Balls' today, Friday October 17.
The brand new movie is exclusively available for download at SIRIpornstar.com or SaraJay.com along with all the footage left on the cutting room floor, bts, interviews and all the high rez pics.   Fans who join SIRIpornstar.com or SaraJay.com to get "#TeamBJ 2" can also access '#TeamBJ 1' starring Sara Jay & Angelina Castro for free.
Physical copies of "TeamBJ 2" are exclusively available for purchase at TeamBJ.com or at Siri's website here or Sara Jay's store here.
One of the top adult stories of 2014, Siri & Sara Jay promised BJs to their Twitter followers if England, USA, Brazil or Germany won the World Cup (Germany won in Extra Time).  A video of the promise can be seen here at YouTube http://youtu.be/lvOPzU9ZNx4.
Shot entirely on location in Las Vegas at the Erotic Heritage Museum, #TeamBJ 2 contains Siri and Sara Jay in hardcore action with the real life followers and fans who showed up to collect.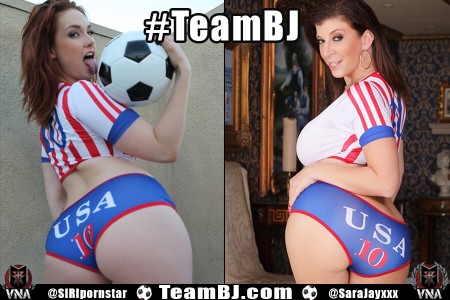 Siri is quoted as saying: "It was an amazing event and the fans who showed up all had a really great time. There's nothing quite like reality porn – who shows up, where did they come from, who will get it up, who won't, why did they travel all the way to Vegas to hook up on the promise of a BJ.  Until the cameras started rolling Sara & I didn't even know how many people were actually going to show up.  I am thrilled to have been a part of #TeamBJ 2 and think my fans are going to love it!"
Sara Jay notes: "This is my second #TeamBJ and a bigger event than the first.  Fans now realize that if I promise them BJS… I'm 100% going to deliver.  It takes a lot of 'balls' for fans to travel to Vegas to perform on camera for the first time ever with a porn star, crew and a lot of people watching.  I want to thank the fans for making #TeamBJ one of the best reality porn adventures out there. Real fans, real followers & real action.  How many fans showed up this time? Get the DVD to find out…. lol."
Follow Siri on Twitter.
Siri's Official Site – SIRIPornstar.com
Follow Sara Jay on Twitter.
Sara's Official Site – SaraJay.com
About #TeamBJ, Sara Jay and Siri
Sara Jay is in the Urban X Hall of Fame and won the Nightmoves Award for Best Boobs 2012. Siri won Miss Freeones Best Newcomer in 2012, was nominated by AVN for Best New Starlet 2013 and won TLA RAW Female Performer of the Year 2014.
#TeamBJ became famous at the 2010 WorldCup when porn stars Bobbi Eden, Vicky Vette and Gabby Quinteros promised BJS if Holland won. Worldwide press included the Huffington Post, Yahoo Sports, ESPN and sports radio stations around the world.  Holland lost in the finals to Spain. In 2012, #TeamBJ returned for the NBA Finals when Pornstars Sara Jay & Angelina Castro promised BJs if the Miami Heat won the NBA Finals (resulting in a threat to sue by the NBA).  High profile media appearances included Russell Brand's show on FX Network.