(HOLLYWOOD, CA) Several adult entertainment superstar clients of Star Factory PR (http://www.starfactorypr.com/) will act as presenters at the annual X-Rated Critics Organization awards. XRCO New Starlet nominee Jillian Janson (https://twitter.com/xojillianjanson), multi-award winning Transsexual performer Venus Lux (http://venus-lux.com/) and 10x MILF of the Year award winner Tanya Tate (http://tanyatate.com/) will all be participating in the award show taking place on April 11th.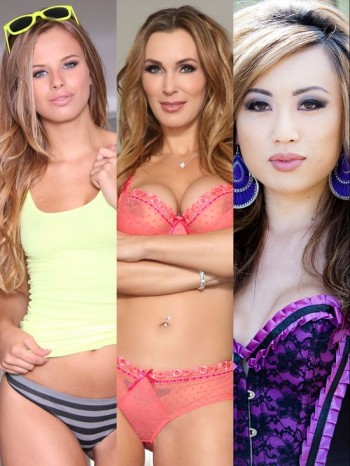 "The XRCO Awards are an important event in our industry and Star Factory PR always looks forward to taking part of it," said Star Factory PR owner Tanya Tate. "It will be an unforgettable night."
The annual XRCO Awards is an industry only event and set to take place at Lure nightclub located at 1439 Ivar Ave in Hollywood. Further information on the awards can be found on the event's official website: http://xrco.com.
In other Star Factory PR news, the website for the company has been given a revamp. In a continuous effort to stay current with evolving technologies, the Star Factory PR site has been updated to be more mobile device friendly. Now, the Star Factory PR blog, list of clients, links to their bios and recent press articles are now more easily accessible than ever. "We strive to make our site as user friendly as possible to the press as well as the public," noted Tanya Tate. "In addition to all of our day-to-day efforts of promoting our clients, we feel our consistently updated news blog can be used as a launching point for media features on our clients. So, we have to have our information easily attainable." Also, those wishing to subscribe to the Star Factory PR newsletter or join the mailing list, can do so via the website. The Star Factory PR website can be seen here: http://www.starfactorypr.com.
Clients of Star Factory PR are set to act as presenters at the XRCO awards! Keep updated with this and other news on the Star Factory PR website!
For more Tanya Tate please visit the Tanya Tate network:
www.TanyaTate.com
www.JustaLottaTanya.com
www.TanyaTateStore.com
www.Twitter.com/TanyaTate
www.ItsMyUrls.com/TanyaTate
Tanya Tate is self represented and can be booked directly:
www.BookTanya.com
For more pictures of Tanya Tate please click here:
www.starfactorypr.com/Tanya_Tate.zip
For more Jillian Janson, please visit the Jillian Janson network:
www.Twitter.com/xoJillianJanson
www.Instagram.com/xoJillianJanson
www.bit.ly/JJWebcam
For more pictures of Jillian, please click here:
http://www.starfactorypr.com/jillian_janson.zip
Jillian Janson is represented by Matrix Models
www.matrixmodels.com
john@matrixmodels.com
310-795-5006
For more Venus Lux, visit the Venus Lux network:
www.Venus-Lux.com
www.Twitter.com/VenusLux
www.Instagram.com/VenusLux
For pictures of Venus Lux, please click here:
http://www.starfactorypr.com/venus_lux.zip
For bookings, Venus Lux can be booked directly at:
bookvenuslux@gmail.com
To interview Jillian Janson, Tanya Tate or Venus Lux for your Website or Publication;
Please contact Star Factory PR
Info@starfactorypr.com
818-732-0191