The majority of teenagers have never had sex with an increasing number of them postponing having intercourse, according to a new study.

It was also found that more of the teenagers who are having sex use contraceptives.
Over the period 2006-2010, 57 percent of teenage girls aged 15-19 years had never had vaginal intercourse, an increase from 49 percent in 1995, said a report by the Centers for Disease Control and Prevention.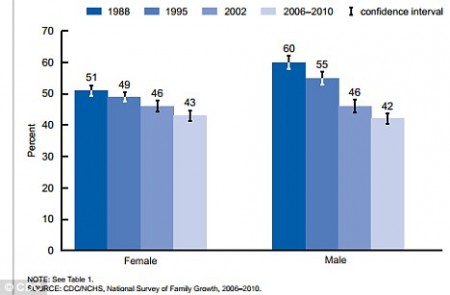 About 60 per cent of the teenagers having sex said they were using hormonal birth control, such as the Pill, patches, the intrauterine device or injections, compared with 47 per cent in 1995. 
White teenagers are more likely to regularly use contraception than Hispanics or African Americans, according to the nationally representative survey.
Sixty six per cent of whites reported to using birth control, 54 per cent of Hispanic teenagers and 46 per cent of African Americans.
Condoms were the second most popular birth control method for sexually active teens.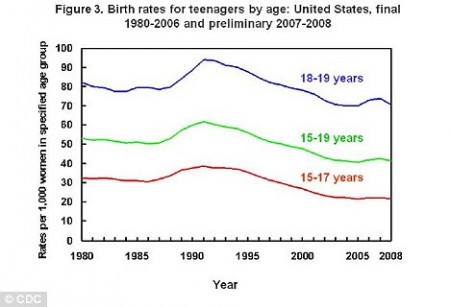 However, the number of teens having sex with no protection remains the same as in 1995 – 20 per cent.
The data was collected from the  National Survey of Family Growth from 1995, 2002, and the period of 2006-2010.
The study may explain the drop in the U.S  teen pregnancy rate, which has fallen 44 per cent since 1990 – its lowest level in seven decades.
This amounts to 38 births for every 1,000 females. In 2010 about 368,000 babies were born to teenage mothers.
'We know there have been declines in teen pregnancy, which is wonderful, and increases in abstinence among teens, which is really wonderful also,' said Crystal Pirtle Tyler, who authored the report.
Pirtle Tyler argued that it would help to keep teen pregnancy rates declining if teenagers knew that the majority of them had not had sex.
The findings, published in the CDC's Morbidity and Mortality Weekly Report, are a positive sign of meeting the Healthy People 2020 target of reducing teen pregnancy rates by 10 per cent.
Source: DailyMail