VENICE, CA – It's that time of the year again. The dreaded "Tax Day" is almost upon us. Adult super star Sunny Lane understands that millions of Americans are feeling the pinch this year, which is why she's doing her part to help ease their pains with a special two-hour event! On Wednesday, April 15th, the always exuberant beauty will be teaming up with the Flirt4Free cam network for the first of several consecutive weekly shows. The event will be broadcast on SunnyLaneCams.com as well as Flirt4Free.com. Fans can receive up to $12 worth of free time just by going to SunnyLaneCams.com and signing up for a free profile!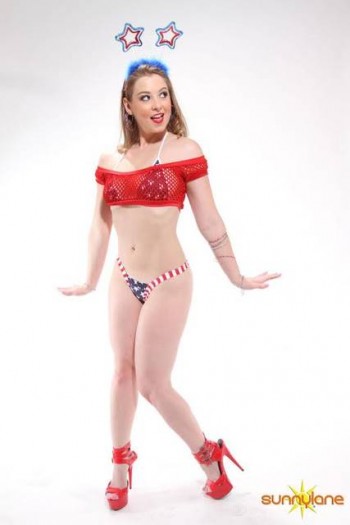 "I am thrilled Flirt4Free.com has decided to feature me on their network. It's exciting because I haven't done private shows at all in the last four years," Sunny explains. "I didn't realize how much I've been missing them! Members of SunnyLaneLive.com and fans on social media will be happy to learn I will be featuring one a week for the next four weeks for anyone who wants to stop by and blow off some steam. See you soon!"
Wednesday's Tax Day celebration kicks off at 7:30 pm PST/10:30 pm EST. Mark your calendars so you don't miss out on this amazing chance to see the incomparable Sunny Lane in action!
Sunny is currently attending school to become a Sexologist and working on a new website. The multi-faceted star continues to appear in adult and mainstream movies, feature dance, and entertain clients and fans live and in person. Additionally the bubbly, free spirited beauty who is always the life of the party looks forward to more opportunities to host live events.
Sunny Lane can be seen anytime on the web at SunnyLaneLive.com every Wednesday night at 6PM PST/ 9PM EST or at SunnyLaneVOD.com.
Fans can also chat her up at Talktome.com.
Follow Sunny on Twitter (@sunnylane) and check her official site at http://SunnyLaneLive.com. She is on Facebook (http://Facebook.com/SunnyLaneLive), Instagram (https://instagram.com/sunnylanelive/), YouTube (https://www.youtube.com/channel/UCHw0xu-EiSlIeSr0LgzglCw), Moonlite Bunnyranch (www.bunnyranch.com/bunnybabes/SunnyLane.php) and has a VOD site (http://SunnyLaneVOD.com). For everything Sunny go to http://risingstarpr.com/clients/sunny-lane/.