Fans Get the Opportunity to See What It's REALLY Like to Have Sex With Her!
VENICE, CA – Ashley Sinclair shoots a lot of sexy and sex-filled content for her sites and for individuals, but now is the first time that she has released a "real" sex tape for her fans to enjoy.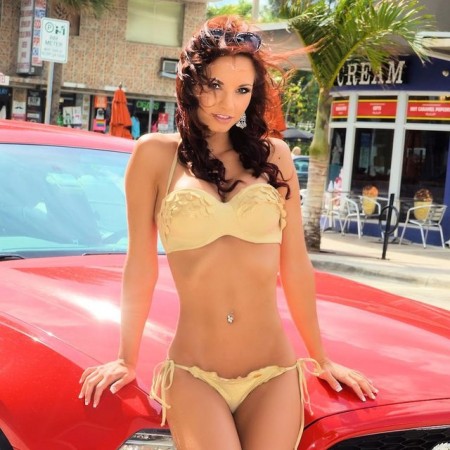 While Ashley doesn't have a boyfriend, she does have a fuck buddy who agreed to screw her with the camera rolling. No acting, no setups, nothing staged – this is just Ashley and her friend going at it naturally.
"I thought it'd be hot for people to see a non-porn sex tape of me and someone that I really love having sex with," Ashley said. "He likes to stay out of the public eye pretty much because we aren't like dating or anything. We're just really good friends. We're about the same age, like many of the same things, he hangs out with me and we fuck when we are horny. It works! So I finally talked him into letting it be filmed. I think it really captures a behind-the-scenes look at my real sex life. If it's popular we will do more and maybe even take requests. But this one is non-scripted, just us going at it like real couples do. No freaky positions, No weird angles, No awkward script – just real sex!"
Ashley has tentatively titled it "Fuck Buddies – Unscripted." Whatever the final title, it'll be on http://clubsinful.com this week and fans won't want to miss it! It goes live Fri., July 17 at midnight.
Ashley was recently named Sexiest Adult Starlet at the Alt Awards and Crossover Performer of the Year at the 2015 Cammy Awards.
Ashley is the focus of Explicit List's July profile at http://explicitlist.com/2015/07/july2015-starlet-showcase-ashley-sinclair/.
Fans looking for the latest and greatest of Ashley's fetish work can go to www.AshleyAndFriends.com. Also enjoy her www.ClubSinful.com. Contact her directly at AshleySinclair69@yahoo.com to discuss your custom fantasy video. Connect with Ashley through www.periscope.tv, look for @PeriscopeAshley.
Ashley's new company is @MySecretPayment and the website for that is www.MySecretPayment.com.
Fans can now text Ashley – including pics and text messages – via Dream Lover. Go to http://www.dreamlover.com/ashleysinclair to connect with her. Ashley produces custom fetish content where the fan is the director. Contact ashleysinclair69@yahoo.com for information. Check out her websites, www.ashleyandfriends.com and http://clubsinful.com.
For everything Ashley go to http://risingstarpr.com/clients/ashley-sinclair/. For up-to-the-second updates, follow Ashley on Twitter (@AshleySinclair0).