There's another hot offering just in from Ashley Sinclair thanks to Tonight's Girlfriend, which posted an incredibly sexy scene just in time for the weekend.
This sizzler features Ashley with Johnny Castle. He's bought a bunch of her custom videos, but it wasn't enough. He needed the real thing and arranged to work out his fantasy with Ashley live and in-person.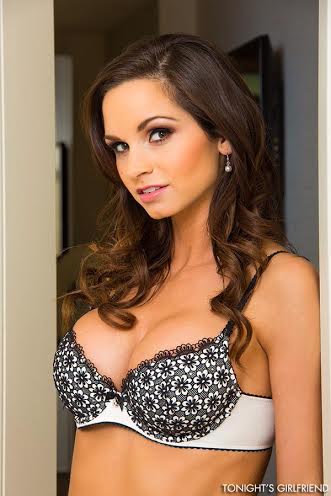 Check out the trailer at www.tonightsgirlfriend.com/scenes/ashley_sinclair-18993.
Ashley recently sat down for an interview with Kneel Before Your Goddess and gave us some information that will help us all fill in some blanks on our Get to Know Ashley score sheets.
She told the site that she started camming when she was 18 because "it seemed like a great way to explore my sexuality safely." She soon did some photo shoots, including some fetish stuff.
"The reason you have seen me in so many different genres of fetish and porn is because after shooting for several fetish producers and a porn company I decided I would start my own production company," Ashley said. "I wanted to cater to specific niche videos that guys couldn't find anywhere else. My passion is creating other people's fantasies and making them come true. With that being said, I don't actually find a lot of interest personally in any one fetish or even vanilla porn scene. I prefer learning what makes others enjoy and stepping up to the plate and trying it myself. That is why I shoot more custom videos than probably anyone else out there that I know of."
Read the entire Kneel Before Your Goddess interview with Ashley at http://kneelbeforeyourgoddess.com/?p=5354.
Ashley is nominated for Favorite Web Cam Girl in the 2015 AVN Awards. Fans can vote for her at http://avnawards.avn.com/voting/category/9.
Read Ashley's recent ADT interview at http://interviews.adultdvdtalk.com/ashley-sinclair/. Her Mens Mag Daily interview is at http://mensmagdaily.com/ashley-sinclair-mmd-interviews-the-sexy-southern-belle/.
Catch her cam shows (9 pm to 3 am ET nightly) and contact her for private shows via Skype and to fulfill fantasies with personalized videos (go to www.bookashley.com). She's also available on Verified Call (https://verifiedcall.com/profiles/AshleySinclair) for fans who want to chat with her. She is also available to shoot custom videos. For a free preview of what that can look like go to www.ClubSinful.com. Her adult toy store can be found at www.ashleysadultstore.com.
Ashley produces custom fetish content where the fan is the director. Contact AshleySinclairProductions@gmail.com for information.
Check out her websites, www.ashleyandfriends.com and http://clubsinful.com.
For everything Ashley go to http://risingstarpr.com/news/?page_id=7451. For up-to-the-second updates, follow Ashley on Twitter (@AshleySinclair0).