Topless protesters recently rallied in front of the General Prosecutors Office of Ukraine in the capital city of Kyiv chanting "Death to the Sadists!" and "Execute the bastards!" reported ABC News.
The women's rights group Femen, who stages topless protests against prostitution and sex trafficking, organized the demonstration in response to the handling of a case involving the rape of 18 year old Oksana Makra.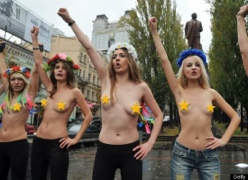 Makra was discovered the day after she was gang-raped by three men, choked until she passed out, wrapped in a sheet, lit on fire and left for dead. Miraculously she survived the ordeal. One of her arms and both feet had to be amputated, 55 percent of her skin was burned, and her kidneys were burned.
One protester said:

"We want to scare men who think they can treat women like animals. We want to let the world know what is happening in this country and to stop it."

Two of the suspects, who were also sons of former government officials, were initially released after being arrested due to lack evidence in order to prosecute them, according to the Kyiv Post, so they were classified as witnesses. The third, however, was named as a suspect.
When a video of one of the suspects calmly describing the attack was posted to YouTube, where it was viewed 100,000 times in the first day, the nation was in an uproar as protests spread across the country.
The two original suspects were rearrested and all three men were charged with attempted murder. According to ABC, members of parliament have called for Ukraine to institute the death penalty for the three accused men, and one suggested that the alleged rapists be castrated.
The Femen activists plan to stage a topless protest in next week in Mykolayiv. Yesterday's rally was the most recent protest by Femen members. The group was founded in the Ukraine four years ago and have since also taken to the streets in Istanbul, Moscow, Davos in Switzerland, and Belarus.
Do you think this was an effective way to get Parliament's attention on the case and make the decision on punishment for this serious crime?
Source. The inquisitor