Tram Anh is closer than ever to realizing his dream of becoming a woman. After over a year of female hormone injections, his muscles have loosened, his skin has whitened and his facial hair has stopped growing. But the 21-year-old Hanoian says each injection is a terrible experience.
Elective sex change operations remain illegal in Vietnam, leading more and more people like Tram Anh to resort to hasty solutions offered by acquaintances that don't come with medical instructions or guarantees. "I take one injection per week and every time it makes me feel so dizzy, I almost pass out," Anh was quoted by Tuoi Tre (Youth) newspaper as saying.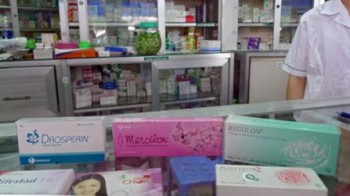 "I've grown significantly weaker, but we still have to give the shots to each other."
Anh said he decided to change his gender five years ago and a Facebook friend introduced him to a supplier of female hormones.
He's scared of every shot, but quitting now means he'd have to start all over again. At least it has been worth it, he said showing off a skinny body and budding breasts. Anh said Vietnamese people have gone to Thailand to undergo sex change procedures, but not everyone can afford that.
So he and his friends take female birth control pills in addition to the hormones which are allegedly hand-carried from Thailand in personal luggage. Women wishing to become men can take physiological supplements designed for men, he said. Another man undergoing the same process said they don't follow any prescribed dosage for the pills or the shots and believe that one can take 15 contraception pills a day to speed up the process.
They inject the hormones into each others' buttocks, thighs and arms as both intravenous and intramuscular shots, he told Tuoi Tre speaking on condition of anonymity.
Bao Han, 53, died in Ho Chi Minh City last October after a female hormone injection caused a fatal blood clot..
Dr. Nguyen Thi Hong Minh, director of the reproductive health consultation center at the Central Obstetrics Hospital in Hanoi, said the uncontrolled use of pills or steroid hormones can led to uncontrolled changes in the body.
Minh said abusers of such medication will see quick results, but even women need to consult a doctor while taking birth control pills. She said men are tough and strong thanks to a high concentration of testosterone, and high doses of estrogen weaken their bodies. "Such a regimen will affect their capacity to work in the long term and their quality of life," the doctor said.
Tran Thiet Son, a plastic surgeon at Saint Paul Hospital in Hanoi, said he's treated victims of liquid silicon injections, another dangerous procedure adopted by poor transgenders.
Son said liquid silicon has been banned worldwide for use in plastic surgery, but some Vietnamese still choose to resort to it.
He said the silicon enters the blood, causing fatal blood and pulmonary embolisms, as well as strokes.
It is illegal in Vietnam to change one's sexual orientation after one's sexual organs have fully developed.
Special cases have received chromosome and hormone therapy at Children's Hospital No.2 in Ho Chi Minh City, the Central Pediatrics Hospital and Viet Duc Hospital in Hanoi to re-identify the gender.