Van Nuys, Calif., April 16, 2014 – On April 30 Evil Angel will release versatile, ambitious director Dana Vespoli's newest XXX feature. Hollywood Babylon is a real movie with sophisticated production values and a sinister mystery story framing intense, kinky sex scenes. The highly cinematic skin flick can be previewed right now in a trailer at EvilAngelVideo.com.
"This movie is part love letter to Hollywood, part meditation on the notion of reinvention, and of course an exploration of twisted, psycho-sexual relationships," reveals Vespoli, the creator of moody porn features Forsaken, Descent and She's Come Undone. "Most of my feature projects begin when I ask, 'What if?' In this story, the question began with, 'What if a girl came to Hollywood and became involved with a psychopathic plastic surgeon?' And a story was born."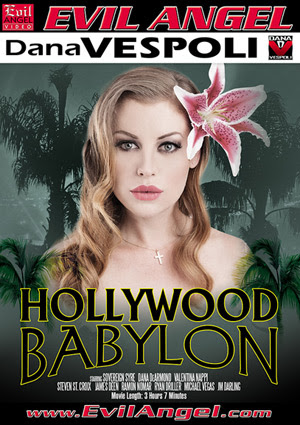 Appropriately, in Hollywood Babylon, a star is born too. "Sovereign Syre stars as Nomi Del Mar, the girl who comes to Hollywood with big dreams," Vespoli says. "Sovereign is amazing — a gifted actress and performer. This is her first boy/girl movie, and I was honored to shoot her first five boy/girl scenes."
The voluptuous Ms. Syre's aspiring actress gets chewed up by brutally self-serving film industry players. James Deen portrays a ruthless producer; Steven St. Croix is creepy even by the standards of plastic surgeons. Syre's character bounces from Deen's casting couch to a freaky "family" relationship with St. Croix and Dana DeArmond (as the good doctor's wicked wife). Wrapping around perverted sex scenes are eerie clues to a mystery unfolding with some unusual "usual suspects." In a non-sex role, mainstream actor J.M. Darling plays the detective trying to unravel the "Hollywood Babylon" story.
Vespoli got to flash her producing and directing prowess. "It cost me less than $18,000 to make, and some of the sequences were shot guerrilla-style," she reports. "I approached it like an indie movie, spending a lot of time with J.M. and Sovereign, working through the emotional life of their characters."
Joining Syre, Deen, St. Croix and DeArmond in Vespoli's cast are Italian stunner Valentina Nappi and studs Ryan Driller and Ramon Nomar. Among the hard-core attractions is a nasty, climactic orgy in which Deen thoroughly manhandles and sodomizes DeArmond, who joins cigar-puffing St. Croix in dominating and abusing our heroine. But not just the sex is twisted — watch out for a story surprise at the end.
"The customers love what Dana is shooting, especially the features," says Evil Angel Domestic Sales Manager Justin Rich. "It's something we don't usually do at Evil Angel, but Dana has the filmmaking chops to do it well. Get your pre-orders in, because I know Hollywood Babylon is going to be a bestseller!"