When people talk about sex outside of a relationship, a one-night stand with someone you just met is usually the first thing that comes to mind. It is the most iconic image of casual sex, and perhaps the most uncomplicated, clear-cut case of it. But it's also the rarest form of casual sex.
In 2009, a research team at Indiana University undertook an impressive sex study, surveying a nationally representative sample of over 5,000 U.S. adults ages 18 to 94. In a 2010 paper published in the Journal of Sexual Medicine based on this sample, lead author Debbie Herbenick and her colleagues reported on the characteristics of last partnered sex among the 1,931 adults aged 18 to 59 who had at least one partnered sex experience in the past year. As the graph below shows, a slight majority of people had their most recent sexual encounter with a relationship partner (spouse, domestic partner, boyfriend/girlfriend, or significant other). The next most frequent category was a casual dating partner (defined as "someone I am casually dating/hanging out with"), followed by a friend. Only 8 percent of women and 11 percent of men reported their most recent sex to be with someone just met, which makes up about 23 percent of all non-relationship partners. The vast majority of casual partners were someone known longer than a day.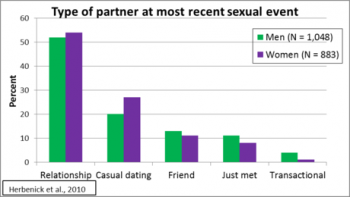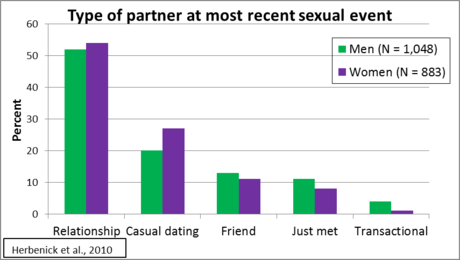 The researchers also broke down the data by age category, but the results were fairly consistent: The percentage of those with a partner they "just met" exceeded 12 percent of the whole sample only among 30-39-year-old women (14 percent) and 18-24-year-old men (17 percent). In all other age cateories, this percentage hovered between 3 percent and 11 percent. A second paper by Vanessa Schick focusing on those aged 60 to 94 from the same sample indicated this pattern is typical even later in life. Only about 10 percent of the men and 8 percent of the women who were sexually active in the past year had their most recent sex with a new acquaintance.
These national data are consistent with other research among young people. Sociologist Heidi Lyons at Oakland University and her colleagues interviewed a random sample of 700 youth ages 18 to 22 in an Ohio county for a paper published in Sociological Perspectives. Of the 36 percent who had casual sex over the last two years (defined as sex with people "you were not really dating or going out with"), 89 percent already knew their most recent casual sex partner when they first had sex with them. On average, people knew their partners for a couple of months before having sex with them, and 20 percent knew them a year or longer. For 61 percent of people, this was not the first time they had sex with that partner, and 65 percent had sex with an ex-boyfriend or ex-girlfriend at some point. Sex with someone met on the same day was exceedingly rare – only 13 percent of men and 10 percent of women reported this.
The relative rarity of sex with little known partners is true for college students as well. When Jennifer Walsh and colleagues analyzed 460 vaginal or anal hookups that happened to 300 college women over a period of 12 months for a study published in the Journal of Sex Research, they found that only 4 percent of these were with strangers. The vast majority of hookups (60 percent) happened with a friend, and additional 19 percent and 18 percent were with ex-boyfriends and acquaintances, respectively.
Finally, in one of my studies on Cornell University freshmen and juniors just published online in the Journal of Sex Research, I asked students about one-night stands versus longer casual relationships (flings, fuck-buddies, friends-with-benefits, etc.) twice, once at the beginning of the academic semester and again at the end of the semester (three months later). As the graph below indicates, many more students of both sexes had longer casual hookups than they did one-night stands – especially over the short period of three months.
Keep reading