DECEMBER 20—A three-time U.S. Olympian whose illustrious running career has included a Nike TV commercial, a swimsuit calendar, and ongoing promotional work for Disney has spent the last year doubling as a $600-an-hour call girl, an astounding secret life that she now regretfully calls a "huge mistake."
Beginning last December, Suzy Favor Hamilton, 44, has worked with one of Las Vegas's premier escort services, booking scores of "dates" in Sin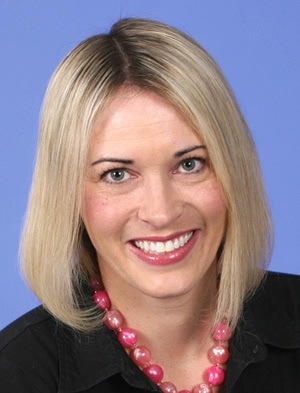 Beginning last December, Suzy Favor Hamilton, 44, has worked with one of Las Vegas's premier escort services, booking scores of "dates" in Sin City and other U.S. cities, including Los Angeles, Chicago, and Houston.
While Favor Hamilton (seen at right) has used an alias, "Kelly Lundy," when working as an escort, she inexplicably shared her true identity with several male clients, believing that her secret was somehow safe with strangers who paid for her company by leaving envelopes stuffed with cash on bathroom vanities in swanky hotels.
When approached by a reporter earlier this month in the lobby of a Las Vegas hotel, Favor Hamilton initially denied any connection with the escort service, Haley Heston's Private Collection. But Favor Hamilton–who is married to her college sweetheart, a lawyer, and is the mother of a seven-year-old girl–eventually acknowledged her work as "Kelly."
"I take full responsibility for my mistakes. I'm not the victim and I'm not going that route," Favor Hamilton said. "I'm owning up to what I did. I would not blame anybody except myself." She added, "Everybody in this world makes mistakes. I made a huge mistake. Huge."
Favor Hamilton expressed concern that her story would be "sensationalized" by a reporter. It is hard, though, to imagine how that could occur. The actual events of the ex-Olympian's past year already seem like the fever dreams of a Lifetime producer who decided to adapt Luis Bunuel's "Belle de Jour" for basic cable.
Favor Hamilton described the escort business as "exciting," an illicit midlife diversion from her routine existence, one in which she operates a successful Madison, Wisconsin real estate brokerage with her husband, delivers motivational speeches, and does promotional work for various businesses and groups, including Disney's running series and Wisconsin's Potato & Vegetable Growers Association.
She said that only her husband Mark, 44, was aware of her escort work, but that, "He tried, he tried to get me to stop. He wasn't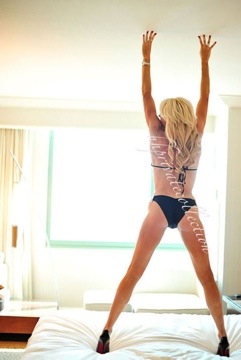 She said that only her husband Mark, 44, was aware of her escort work, but that, "He tried, he tried to get me to stop. He wasn't supportive of this at all." The couple lives in a $600,000 Madison home and appears to be in no financial distress based on a review of court and municipal records.
In a July 2012 Milwaukee Journal Sentinel profile, Favor Hamilton spoke of giving about 60 motivational speeches annually, raising her daughter, running her realty firm, and doing appearances for Disney and the Rock 'n' Roll Marathon series. "I just know I'm happier than I've ever been. My life just keeps getting better," she said.
But she also spoke of her life's darker precincts.
Favor Hamilton told of suffering postpartum depression after her child's 2005 birth and how she had been prescribed the antidepressant Zoloft, which has allowed her to "feel better than I've ever felt." Additionally, she told reporter Gary D'Amato how her brother Dan committed suicide in 1999, a year before she ran for the gold medal in the 1500-meter final at Sydney's Olympic Stadium. She led that race with 200 meters to go, but when other competitors began to pass her, Favor Hamilton recalled, she intentionally tumbled to the track, ashamed that she could not medal in honor of her late sibling.
Sitting on an outdoor bench off the Las Vegas Strip earlier this month, Favor Hamilton referenced her athletic career when a reporter asked why she thought her identity could remain cloaked–especially since she spoke openly with certain johns about her real name, running career, and business pursuits.
Favor Hamilton answered that as a world-class athlete she was conditioned to believe she was invincible, and that doubts and concerns were counterproductive thoughts. During a subsequent conversation she brought up Tiger Woods's tumultuous fall, saying that, "I mean, he's the biggest athlete ever. He obviously thought he could never get caught."
Favor Hamilton also blamed herself for being "too trusting." She expected other participants in the insular escort business–where men seeking sex are called "hobbyists" and women selling it are "providers"–to honor a code of silence. Though she seemed entirely sincere, it was nonetheless a credulous notion that client and escort were morally bound by some implicit pledge of omerta.
Why would her secret be safe with guys about whom she knew nothing (except that many were paying for sex while their spouse was back home)?
These johns slept with an attractive former Olympian, an All-American girl with a Wikipedia page and a Nike commercial on YouTube. How could they not boast about their costly Las Vegas escapades? A Google search by any of these "hobbyists" would have quickly established Favor Hamilton's status as a public figure as well as her athletic bona fides.
As a middle distance runner, Favor Hamilton competed (but did not medal) at the 1992, 1996, and 2000 Olympics. Her collegiate career at the University of Wisconsin was so dominating–she is the most decorated female athlete in NCAA track and field history–that the Big Ten Conference's female athlete of the year award was named after her (the male equivalent honors Jesse Owens).
The winner of multiple national championships, NCAA titles, and All-American awards, Favor Hamilton has appeared in national ads for Nike, Reebok, Clairol, Oakley, and Pert Plus shampoo. A 1997 swimsuit calendar included shots of the lithe athlete modeling a stars-and-stripes bikini and lounging on the sand sans top.
Referring to a client she suspected of contacting a reporter, Favor Hamilton said, "He totally broke all the rules by outing me." But she stressed that returning fire was not her style. "I don't want to be like him. Because he is scum. And I will not become scum to make myself feel good," Favor Hamilton said. "I will not do it. I would suffer rather than go that route of being vindictive."
When a reporter expressed disbelief that Favor Hamilton–a college graduate who has traveled the world, competed at track and field's highest levels, struck endorsement deals, and built a successful legitimate business–could be so naïve, she answered, "I can't expect you to understand, you aren't in that world."
She gave a similar reply when asked if she ever feared for her safety since she met clients unaccompanied by security. "Again, you don't know this world. You're making judgments on what you see on television or what you perceive," she said.
Favor Hamilton said that she had been planning to quit the escort business even before learning that TSG was examining her connection to the illegal Haley Heston operation.
She acknowledged contacting certain clients to "let them know I'm not doing this anymore and I'm moving on with my life. Because they're gonna try to contact me." She also told of recently starting therapy to "figure out myself why I've done what I've done."
After being contacted by Favor Hamilton, one of her clients wrote a TSG reporter offering "some money to prevent [a story] from coming out…I would do anything to protect her." In a July 2012 online review, the client–who recounted two separate encounters with "Kelly"–enthused, "She is worth every penny. I will go bankrupt before I stop seeing her. I hope no one else goes to see her, because I want her all to myself." He added, "I never thought I would find anyone in this hobby like her."
Favor Hamilton also claimed to never have considered possible legal complications stemming from her escort work with the Haley Heston firm. Prostitution is illegal in Las Vegas and each of the cities where Favor Hamilton has had "dates" arranged