Source: Guardian World News
Actor in airbrushing row after appearing to wear only a tattoo spelling initials of Pakistani spy agency on Indian FHM cover.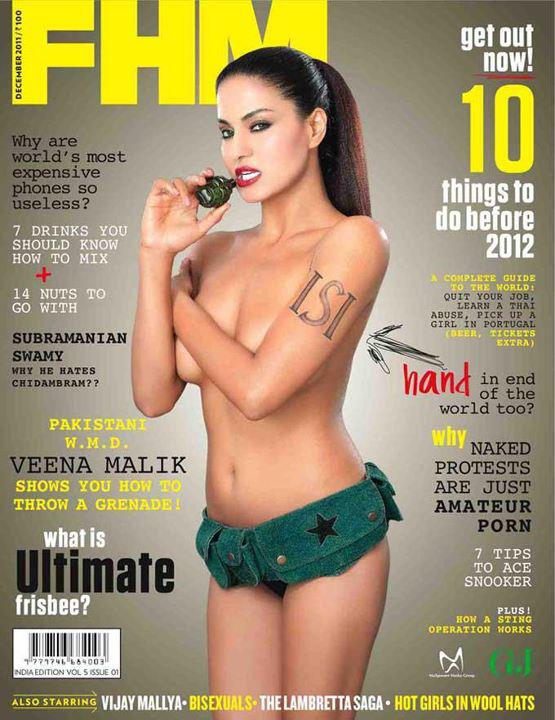 The Pakistani actor at the center of a controversy over a "nude" picture on the cover of an Indian magazine has hit out at the "stone age" attitudes that have seen her plagued by threats and condemnation.
Veena Malik appeared on the cover of the Indian edition of FHM magazine apparently adorned with nothing but a tattoo that reads ISI – the initials of the military's feared spy agency.
She claims the magazine airbrushed out the thong she was wearing. But her appearance has led to accusations that she has betrayed her country; her father has disowned her, and she has received death threats, in a country where Islamist extremists are a genuine danger.
Even the military establishment has got involved. The Inter-Services Intelligence (ISI) is blamed in India for sponsoring terrorism.
A text message sent to local journalists from the Pakistani military's public relations machinery complained that the affair was "the height of humiliation for Pakistan, done by a Pakistani on Indian soil".
In an emotional interview with the Guardian from Mumbai, where she is working on three films, Malik said that despite the threats, she was not scared and would return to Pakistan.
"The things I have done in life, I have the guts to stand by. This is my body; this is my life," she said. "This is my body, and I will take advantage of it if I want to. And it's a very beautiful body.
"But I will not allow any man out there to morph my pictures and put it on the cover, just to sell their magazine. They are gaining. I'm losing."
The magazine the Indian version of the British men's monthly FHM maintains that Malik consented to the nude picture, which appears on the front of the December issue.
The actor and the magazine are unable even to agree on her age, with the magazine saying she is 33 while she insists she is still in her 20s. They are suing each other for £3m in a bitter exchange of lawsuits. She revealed that she had even consulted a UK law firm about taking FHM to court in Britain.
Malik has been vilified at home, and argues that no-one is willing to hear her side of the story.
"I'm living my life on my own terms," she says. "If somebody does not agree with that, if somebody does not want to understand, it's pretty OK with me. I did not commit any crime in my life.
"If some mullah on the TV today says shoot the girl, they will shoot me. But the guy who removed my clothes using some technology, at least say something against him.
"This attitude, I'm sorry, is in the society. When they say they have become modern, grown up, that's wrong. They still live in the stone age."
In a country that is becoming more conservative, women are increasingly covering up in Pakistan, some by choice, others through intimidation. Nudity is unknown, even in Pakistan's "porn" films.
Malik said that she was wearing the bottom half of a bikini during the photo shoot and denied that she was even topless, as her hands were hiding her breasts.
"My choice was a bikini shoot. And I did a bikini shoot. They removed my bikini, later on. It was not a topless, and not a nude, shoot. It was a completely covered shoot," said Malik. "When the upper portion of the model is completely covered, by the hands, you can't call it topless."
Controversy has followed Malik throughout her career as a model and actor. She had an acrimonious love affair with the Pakistani cricketer Mohammad Asif, who was recently sentenced to jail in Britain for fixing a match.
She sent blood pressures racing in Pakistan by starring in an Indian reality TV show in which she appeared to be canoodling with an Indian actor. Undaunted, she appeared on a Pakistani television channel at the start of this year to debate with a mullah who accused her of "insulting Pakistan and Islam", only to tear him apart in a blistering, hour-long verbal assault, telling him there were bigger problems in Pakistan to worry about, including the rape of children in Islamic seminaries.
Even the current storm shows no sign of abating. On Monday an Indian fashion designer, Umair Zafar, claimed that Malik and FHM had planned the whole drama, including the lawsuits, for the sensational publicity.
Malik's only response was: "I don't know this guy [Zafar]: never met him, never heard of him."