Mimi Faust and Nikko, two of the hottest personalities on VH1's reality series Love & Hip Hop Atlanta,  are the stars of Mimi & Nikko: Scandal in Atlanta the latest celebrity sex tape from Vivid Entertainment. The movie will be available online at vivid.com as of April 21 and it will be in stores nationwide on April 29.
The show's breakaway stars are more intimate than anyone ever imagined.  She's a beautiful and clever businesswoman; he's an artist/music mogul entrepreneur who has worked with some of the top names in music.  But in this episode, they're having steamy sex in a hotel room chair, they hip-hop straight to bed for some backdoor teasing and it all ends in one hot shower session you'll never forget.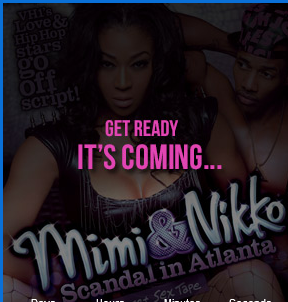 The VH1 top-rated series follows the lives and loves of the baby mamas and girlfriends of Atlanta's hip hop stars as they fight obstacles and competition in their fierce quest to find fame and fortune.  And in Season 3, this tape turns Hot-lanta upside down and inside out with the scandal of a lifetime.
"From the minute we heard about this tape, we wanted it," said Vivid chief Steven Hirsch, adding, "The authenticity of Mimi and Nikko's relationship is obvious. There's no mistaking their passion; it's real."