Lady Gaga is no stranger to controversy, often pushing the boundaries with her costumes and videos.
However, in a new teaser for her forthcoming video for her new single Cake, the singer is seen being spanked in a bath tub.
In a new promo shot by photographer Terry Richardson, the pop star is frolicking in a bath tub with two brunette women.
The shot is easily recognizable as the style of acclaimed photographer Terry, known for his often-nude shots of models.
The accompanying song sees the New Yorker rapping, with lyrics about snatching wigs and her 'burqa swag'.
In the clip, the singer is seen crawling around on all fours in some underwear, looking very busty while gazing seductively at the camera.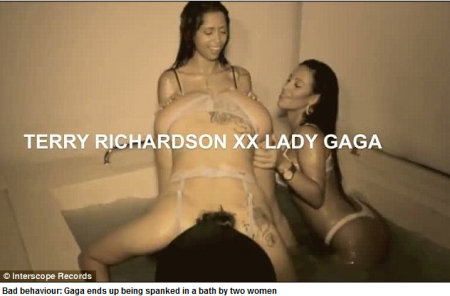 In a fleeting shot, Gaga is seen bending over in the bath as she spanked by a brunette, as another woman looks on.
Then in another sepia shot, the singer is seen attempting 'twerking', a popular dance in hip-hop culture, in a skimpy T-shirt, G-string and heels in a rehearsal studio.
As she shimmies and shakes, she admires her own backside in a mirror.
Gaga teased fans, aka her 'little monsters' about the video on her Twitter this week, before finally posting a link to the teaser clip on Wednesday night.
She tweeted: 'Un petit fours OR *very good for making gifs*.'
The single is expected to be on Gaga's forthcoming album Artpop, which is scheduled for release in early 2013.