Vivid Moves to Have AHF Disqualified in Measure B Suit
LOS ANGELES — Vivid Entertainment late yesterday filed court papers seeking to have the AIDS Healthcare Foundation disqualified as intervenors in the studio's legal fight to stay enforcement of Measure B.
The studio and co-plaintiffs Kayden Kross and Logan Pierce told the court that they will seek the court's reconsideration of its earlier decision because of yesterday's U.S. Supreme Court ruling in Hollingsworth vs. Perry.
"In Hollingsworth, the court holds that the proponents of ballot initiatives, like intervenors here with Measure B, 'have no 'personal stake' in defending its enforcement … distinguishable from the general interest of every citizen of California and thus lack Article III standing," Vivid attorneys said in yesterday's motion for reconsideration.
"The decision in Hollingsworth bears not only on the court's grant of intervenors' motion to intervene, but also on the pending intervenors' motion to dismiss and plaintiffs' motion for preliminary injunction, which intervenors opposed but defendants did not. All courts have an obligation to ensure standing and jurisdiction at all stages of a case."
In April, U.S. District Judge Dean Pregerson ruled that the AHF could intervene in Vivid's suit seeking injunctive relief over enforcement of Los Angeles County's Safer Sex in the Adult Film Industry Act, which was approved by voters in November.
The court granted AHF' s motion to intervene based on the Hollingsworth ruling, which was decided at the 9th U.S. Circuit Court of Appeals.
That ruling held that opponents of gay marriage behind California's 2008 Proposition 8 effort had the constitutional authority, or standing, to defend the law in federal courts after the state refused to appeal its loss at trial years earlier.
Among its affirmative defenses, the AHF said that it had reserved "the right to have proponents of Measure B intervene and defend the constitutionality of Measure B in light of the Proposition 8 gay marriage ban decision."
But on Wednesday, the U.S. Supreme Court ruled that was incorrect and vacated the 9th Circuit opinion.
Vivid, led by a trio of famed adult entertainment industry attorneys — Robert Corn-Revere, Paul Cambria and H. Louis Sirkin — are seeking injunctive relief over enforcement of Measure B
Vivid, Kross and Pierce filed their suit in January at U.S. District Court in Los Angeles.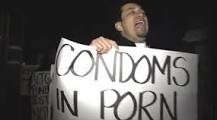 Source Xbiz.com