LOS ANGELES — Adult film star Steven St. Croix is leading a second adult industry "call to action" in opposition of Measure B on the Nov. 6 election ballot that would make condoms mandatory in porn productions.
The new call to action is planned for noon to 2 p.m. PST on Tuesday, Oct. 16, when St. Croix and the No on Government Waste Committee, a group formed to inform the public about voting "No on Measure B," are asking for the industry to join them in a two-hour social media campaign.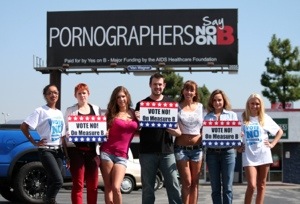 St. Croix said, "We are asking all adult video companies, their social media directors, producers, directors, talent, crew, assorted executive and management people and the fans of adult films to tweet, retweet, post on their blogs or websites, link to or embed the following two No to Measure B clips for two hours between 12 noon and 2 p.m. PST."
St. Croix's two No on Measure B clips, or PSA's, can be seen here. Here are the YouTube links: http://youtu.be/uBKn9eIOP-Q; http://youtu.be/fSSRD6ed9IQ.
The veteran performer successfully orchestrated a similar call to action using social media on Sept. 25.
"We ask that all normal and personal internet postings and tweets by all in the industry and fans alike be withheld for two hours with all social media activity pointing to the two No to Measure B video clips," St. Croix continued. "We ask all to tweet, post, share, retweet, like, + , pin these two video links found below only during those two hours."
St. Croix, who has been in the industry for 20 years, also offered another suggestion for those who want to spread the word.
"In addition, talent can also be vocal in their fight against Measure B. You know that new iPhone 5 you just bought? Use the video camera feature and record a short video and post it to your Facebook. 'Hi I'm __________, when you vote in Los Angeles County on November 6th, vote No to Measure B! It's a waste of taxpayers hard earned money!'" St. Croix said.
"That iPad you carry around on set with you? Same thing. Use that to record you and your peers together in a group video saying the same thing. Mac's have an app called Photo Booth where you can record video on your laptop. Droid users, I don't know what you have, but I'm sure you have it. Use it."
Cam girls can get in on the action too, St. Croix reasoned. "Girls, another thing that can be done, is after you do your cam shows, say, 'If you like what you just saw, then support my right to keep doing what I do best and vote No to Measure B.'"
He added, "Guys, you can do the same thing. If you are shooting content with a quick turn around that posts this month, end the scene with a message to the camera. 'If you want to see us deliver the hottest sex to you the viewer, make sure you vote No to Measure B on November 6th.'
"Of course, all these can be cut out later after the vote takes place without affecting the scenes."
St. Croix said that while Twitter and other social media platforms can be effective, "they are most effective when used with video."
"Showing your face and speaking to your fans humanizes you and shows that you are not some gif image typing out random messages into the ether," he said. "Ladies, if your dancing in LA, make sure your fans know to vote NO on Measure B on November 6th."
Source Xbiz