'BOINK' iPhone App Matches Users Based On Sexual Preferences
We've all been there: You're at a bar chatting with a cute guy or girl and have no idea based on the conversation whether that person has a candle wax fetish, a whip collection, or is into role-playing. So now what?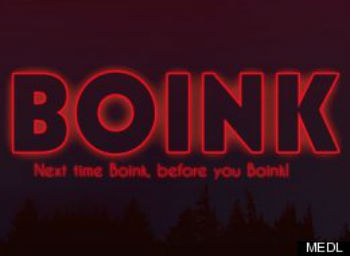 Sure, you could invite the person out for dinner and a movie, get to know each other, and go from there. But this is 2012! People have places to go and people to Boink. Thankfully, a crack team of developers at MEDL Mobile created an iPhone app, appropriately named "BOINK," which allows users to create a "sexual proclivities" profile based on likes, dislikes, positions, kinks and fetishes.
Using the same technology as the popular data-swapping application "Bump," users can touch their phones together and the program will use a "sexual compatibility calculator" to do determine whether the pair would make merry bedfellows.
And if those features don't seal the deal, BOINK also has a "stats" counter for keeping track of sexual exploits and a "tales" page where people can exchange stories.
Fortunately, Mashable explains that all data users input into the application remains private.
The developers also told the site that they had to submit the application to Apple's strict review board three separates times before it was approved.
"We had a bet going internally as to how many rounds it would take to get approved," Dave Swartz, co-founder of MEDL Mobile, told Mashable. "We love the fact that Apple finally said yes. It shows they understand adults are using the iPhone in ways that are certainly mature, but don't amount to pornography."
The app currently sells for $0.99 through iTunes. According to The New York Times, the app is also available for Android phones, but some features may not work due to compatibility issues. For example, in some cases, users of HTC phones may not be able to "boink" their phones together.
Source: Huffington Post