VENICE, CA – Fans of seeing hot legal teen beauties drilled hard and deep, pumped full of pearly white jizz, then left glazed and dazed with creamy man nectar drooling out of their ravished pink love hole have reason to celebrate this week. That's because acclaimed director and industry veteran Mike Quasar has captured a batch of scintillating scenes for his latest installment of Creampied Cheerleaders that are straight out of their wildest wet dream and guaranteed to send even the most jaded creampie connoisseur into an epileptic fit of delight.
Creampied Cheerleaders 5 stars saucy newcummer Maddy Rose along with Trillium, Mila Blaze, and naughty little Cassidy Klein getting nailed within an inch of their sweet young lives by rock hard studs Marco Banderas, Mark Wood, Bill Bailey, and Derrick Pierce.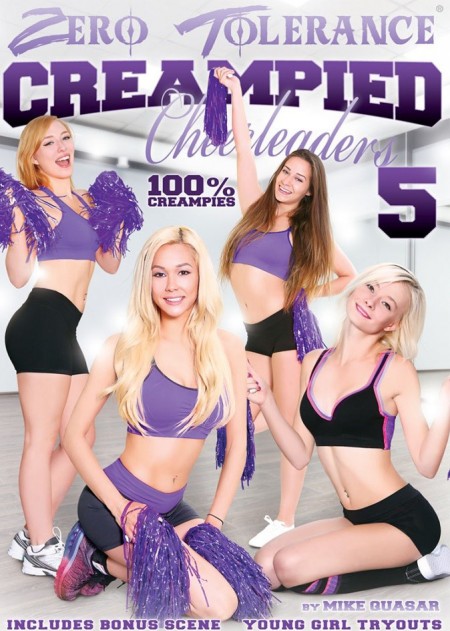 These hard-bodied young hotties have the best pom-poms on the field and yes they can do the splits anywhere, anytime, but what they really crave is that filled up feeling that makes them squirm and wiggle until the cream oozes out nice and slow. One look and you'll be the one saying a cheer for your favorite creampied legal teen queen!
"This is hands down one of the finest creampie series ever created," proclaims Dom B. "Fans have come to expect a lot from Mike and from us. We're proud to be able to honestly say we can deliver what they've asked us for and so much more. Volume five is going to blow their minds and leave them shaking their heads in a puddle of their own splooge asking what just happened. It's that good!"
Creampied Cheerleaders 5 ships this week from Zero Tolerance. It's available online at http://www.zerotolerance.com/movies or wherever mind blowing hardcore is sold!
Don't forget to follow Zero Tolerance on Twitter @ZTentertainment. For media opportunities contact Rising Star PR.
About Zero Tolerance:
Zero Tolerance delivers high quality films to satisfy all your secret desires and cravings. Focused on both popular genres and niche content, you'll find fresh takes on tried and true genres, as well as unique subjects with an edgy perspective. Fetish themes like lingerie, eyeglasses and MILFS along with unique 'scenario' films and the occasional parody bring an edge to Third Degree that you won't find in other adult brands. Our unparalleled talent offer everything from all-American to exotic looks and their insatiable appetites will definitely have you coming back for more!