Lawyers for the adult entertainment industry filed suit today in the U.S. District Court for the Central District of California challenging the recently passed Measure B which makes it mandatory for adult actors to wear condoms while shooting adult films in LA County.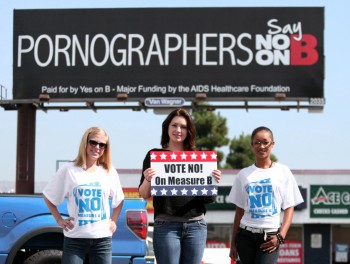 The complaint states that Measure B is unnecessary because of rigorous and effective self-regulation by the adult industry and that it imposes an unconstitutional system of prior restraint in violation of the First Amendment. Numerous provisions of Measure B are excessively vague and burdensome, and thus place an intolerable restriction on freedom of expression. The lawsuit also challenges the County's jurisdiction to regulate adult production on performer health and safety.
The adult industry plaintiffs include adult production company Vivid Entertainment along with adult performers Kayden Kross and Logan Pierce. "Overturning this law is something I feel very passionate about. I believe the industry's current testing system works well, said Steven Hirsch, founder/co-chairman of Vivid. "Since 2004 over 300,000 explicit scenes have been filmed with zero HIV transmission. The new law makes no sense and it imposes a government licensing regime on making films that are protected by the Constitution. Measure B will have vast unintended consequences which may undermine industry efforts to protect the health of our actors and actresses."
Attorneys Paul Cambria of Lipsitz Green Scime Cambria, Louis Sirkin of Santen Hughes, and Bob Corn-Revere of Davis Wright Tremaine are representing the plaintiffs. Mr. Cambria stated that this Law not only infringes on free expression but rather than protect performers as it currently does it will drive production overseas or off shore where no protection exists.