According to DM's and a tweet made by VP Of APAC, Lasha Lane, she has discovered some top secret things about me.
One was so damming, she says she will no longer talk to me via direct messages.
Before I get into that, let me be clear, this is one more post brought on by Lasha, I had already swore off APAC, Lasha and BIPOC for the week. This was going to be a low key TRPWL week. Some random picture posts, maybe promote a few girls Onlyfans.
So when some of you DM me asking why, there's your reason…
Most of you that know me know I shut down on weekends, most of my tweets are scheduled thru the site.
So when Lasha tagged me in this tweet, I didn't see it. It was brought to my attention when I was telling someone about her DM's.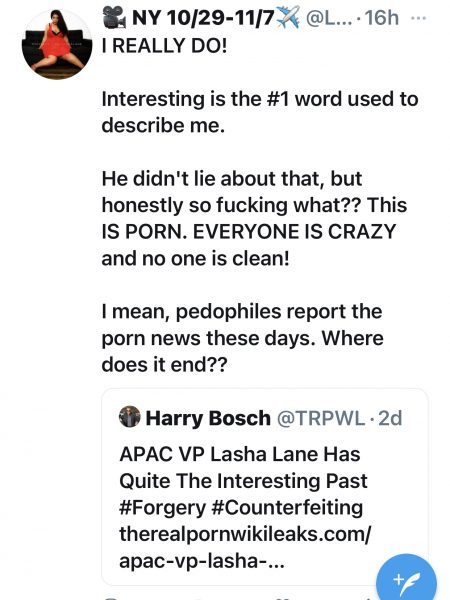 And this one a little while ago: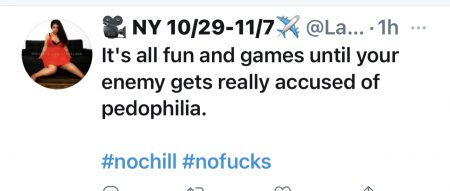 Now, before we delve into this topic. Lasha wasn't around when I started. See when I started, I was vetted more than a Vice Presidential nominee. PWL members spent hour after hour doxxing me for years.  In the 10 years I've been doing this, I've battled lawyers big and small, nothing. I've gone after companies who made it part of their daily mission to find an angle to get rid of me, nothing.  I would think had I had something as bad as child molestation charges, they would of been brought to light long before Lasha Floyded her way to the APAC board.
I have always met issues head on, talk shit about "beating me up", I tap you on the shoulder at AVN and give you your shot. When disgraced blogger Michael Thomas Strother was around, he went around saying I was being sued, and I was ducking service,  so I made him an offer someone as sure as him couldn't refuse… of course he refused it, and subsequently a short time later lost his website for one of the many lies he wrote.
So here is my offer to you Lasha, this site, to do with what you wish. You can get the APAC lawyer to draw it up so its legal.
To get this site, all you have to do is show proof that I have:
Been convicted or even arrested for ANY sexual offense,  it doesn't even have to be with a child, that even opens it up and increases your odds.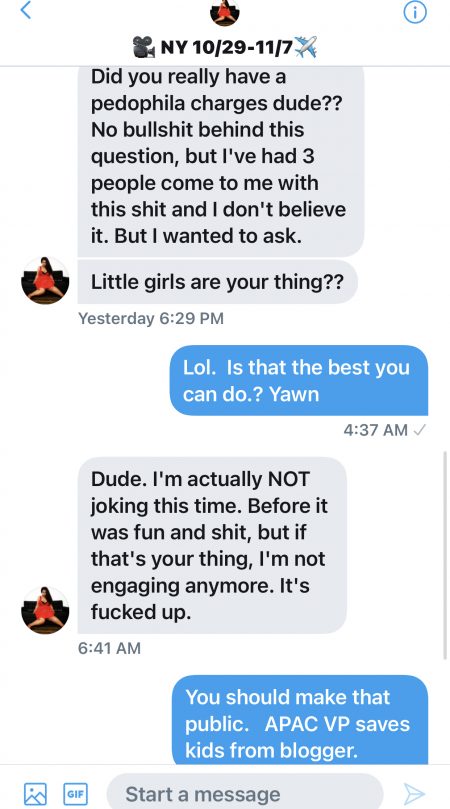 Now, this should be easy since no less than THREE people brought this to your attention.
Surely those 3 people have some sort of case number, arrest report, sex offender registry information.
Now I'm not APAC Vice President smart, so I could be wrong, but don't people convicted of child sex charges have to register? When I look for myself in the sex offender register, I only find one guy, a Hispanic looking fellow with a very distinguishable face tattoo, this 5'4 173 pound guy looks like nothing me. I'm a 6'2 241 pound CIS white male whose pronouns are award winning and cool dude.
Yea, that's not a very good match Lasha.
And by proof, I don't mean some word press blog, sex offenses are public records, they have to be, so get to proving.
If I remember correctly, BIPOC's Sinnamon Love was the one who used a children's charity to steal money, not TRPWL.
Since we are talking about kids, you know what really grinds my gears? When some chicks go on a hooking spree and one of them brings along her child. That's gross, do me a favor, if you hear of anyone doing that, please let me know, I'd like to call them out for it.
Anyway, I look forward to your proof, giving you this site, and walking off into the sunset like Frank Sinatra.
Mayo out.