New Jersey – There's something about Aria Khaide that drives her fans wild, and when reading her latest interview with XCritic.com, it will become apparently clear – Aria has that 'it' factor. And she used that to her advantage as she charmed the pants off of Don Juan De Marko (by his own admission), as she gave an extensive and personal interview.
It's no secret that Aria loves her job, in fact, she is quoted as describing herself as "the greediest slut you'll ever met", but she also has more to offer than just her porn career. In fact, fans may even be surprised that Aria didn't have intentions on becoming a performer at first. What started out as hobby with her husband for sites like FetLife, turned into a career opportunity, and Aria never looked back. While performers strive to be the 'dirtiest', Aria takes a different approach to sexuality, focusing more on energy and attitude. She describes working with her scene partners as an adventure, and her lighthearted attitude will impress you. And, you may just be surprised at her multiple talents – including being a wrestler in high school, and the ability to take down a man twice her size!
One of the subjects in her interview, her porn wife, Sierra Slayter, is also in Aria's upcoming clip release. Available next week, this is Aria's first encounter with Sierra, and it's apparent their chemistry is through the roof. This scene is sensual and passionate, and a lovely lesbian scene that will become a fan favorite. The clip will be made available for purchase on Aria's OnlyFans, ManyVids, and Clips4Sale stores.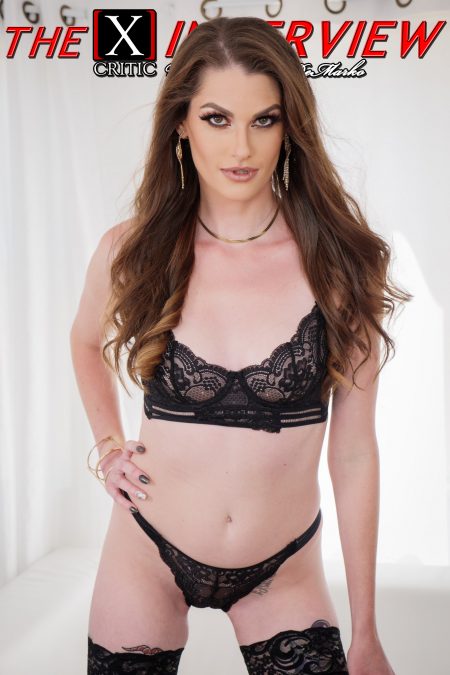 Aria is represented by East Coast Talent and will be in LA March 14th – 21st. Her schedule is filling up quickly, so to get Aria on your set for BG, GG, BBG, BGG, DV, gangbangs, BJ, blowbangs, solo, creampies, and more, please contact East Coast Talent at (732) 859-2414 or bookings@eastcoasttalents.com.
Keep up to date on Aria's career on her official Twitter and Instagram accounts, or follow her on Snapchat at aria.khaide. Fans can purchase a subscription to Aria's OnlyFans page for $9.99 per month, and individual clips are available at her ManyVids and Clips4Sale storefronts. For a complete list of Aria's links visit http://www.xxxstarpr.com/aria-khaide/.
PR for Aria Khaide is provided exclusively by XXX STAR PR. Follow us on Twitter, @XXXStarPR and check out our website, xxxstarpr.com. For interviews or media inquiries, contact xxxstarpr@gmail.com.