On March 25, 2104, one year and 19 days after his death, the killer of Ralph D. Stone, porn star Jennifer R. Marchant (a.k.a. Scarlett Rouge), was sentenced in Niagara County Court to 12 years in prison for his fatal stabbing.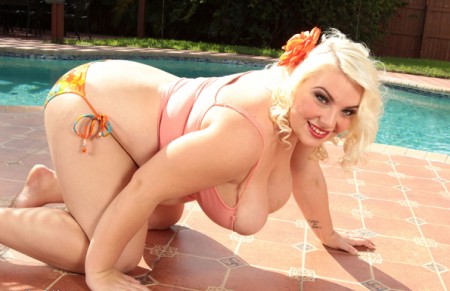 Marchant's mother, Kimberly Fenzel, told the Tonawanda News that the family would consider an appeal.
Marchant's father, Edwin Marchant, contends she acted in self-defense. "(She) did what she needed to do to protect herself," he said. "All the evidence showed that."
Before sentencing, Marchant addressed the court, saying, "I loved him too, a lot, but I did everything I could that night. I begged him to stop. I should have known better."
The story of that night stands as a lesson in how anger, jealousy, stupidity and drugs and alcohol can destroy people.
The families of both Marchant and Stone wept after the sentence was announced.
The victim, Ralph D. Stone Jr., worked in his family's business, Stone Landscape and Aquatic Design. He was the father of a little girl and, like his parents, a member of the Lighthouse Baptist Church in Wheatfield.
Jennifer Marchant was a porn performer and model. Featured in the porn category of "BBW" or "big beautiful women," she appeared under the stage name of "Scarlett Rouge" in such films as Dinner for One, Sex for Two, Scarlett's Job Interview, Super Sized Rides 2, Hot Sexy Plumpers 27, and "Sex in the Titties.