A convicted sex offender from Michigan has been sentenced to one-to-15 years in a state prison for repeatedly having sex with dogs.

Kurtis Peterson learned his fate on Monday when Judge Timothy Hicks went above state sentencing guidelines to keep the repeat offender in a controlled environment to prevent him from re-offending.
Under state guidelines, Peterson would have been sentenced to time in a county jail and probation, but because he had already served 321 days behind bars, Peterson would have been released almost immediately.

The 37-year-old Muskegon man pleaded no contest last March to 'the abominable and detestable crime against nature,' also known as sodomy or bestiality, and charged as a fourth-time habitual offender.
Peterson's attorney, Belinda Barbier, said in court that her client has serious mental health issues that require long-term counseling, and the judge agreed that the defendant has 'pretty low cognitive ability.'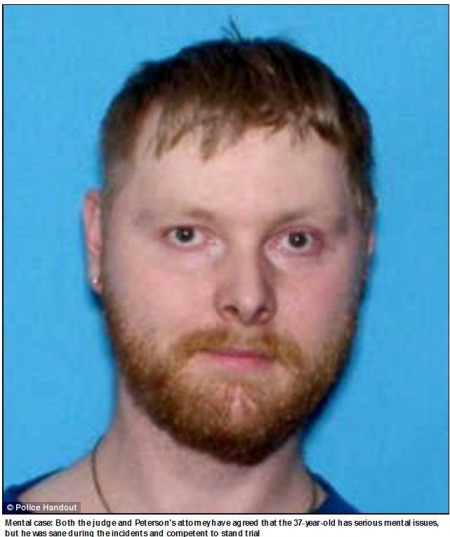 However, experts at the Michigan Center for Forensic Psychiatry earlier examined Peterson and determined that he was sane while sexually abusing the animals, and he was competent to stand trial.
The first incident involving Peterson took place April 2010 at his apartment at 230 Amity Avenue in Muskegon when he was caught kneeling naked behind his blue heeler on his bed, having sex with the pet, according to testimony by an eyewitness cited by MLive.com. 
In early June, the same witness said she walked in on a naked Peterson apparently having sex with a white pit bull on the floor of his living room. The 37-year-old man was arrested a short time after the second incident.

Testifying at a preliminary hearing about the April incident, the witness, Joyce Yeaw, said Peterson told her he was 'just hugging his dog,' but the woman said it looked like a lot more than an embrace between an owner and his pooch.
Yeaw testified that she and a friend stopped by Peterson's home to return car keys they had borrowed from his roommate when they caught him in the act. She said she called 911, but no arrest was made until June.

'He was having sex with the dog,' Yeaw said in court at the time. 'It was disgusting.'

Muskegon police detective Peter Boterenbrood, who interviewed Peterson after the June incident, said that Peterson told him he was 'just playing with the dog' in April, but he became sexually aroused from accidental contact with the animal's rear.

Court records show that Peterson was convicted of fourth-degree criminal sexual conduct in 1996 in Allegan County, and in 2010 for carrying a concealed weapon and making a false report of a felony.